Whoa, JK Rowling just revealed a huge hint about the plot of the next "Fantastic Beasts" movie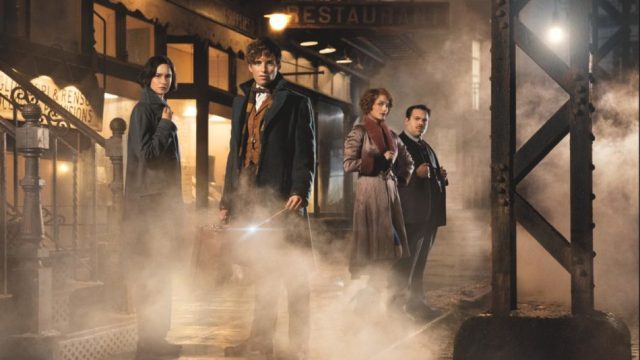 November has been an incredible month for Harry Potter fans! First, we got to experience the magic of the recent box office hit, Fantastic Beasts and Where to Find Them. For those who haven't had a chance to check it out yet, JK Rowling wrote an incredible script based on the beloved fictional guidebook, and Eddie Redmayne was amazing as Newt Scamander, the famous magizoologist! But now we've got even more good news!
JK Rowling just revealed a major clue about the plot of the sequel!
 So fair warning, there are some spoilers ahead if you haven't had a chance to check out Fantastic Beasts yet.
(If you haven't seen it yet, this is the part where you run to the theater, watch the movie, and then come back to this article.)
 Okay, you're back? Great! So, as we know, the film hints that Scamander has a dark  and maybe romantic past with a witch named Leta Lestrange. Harry Potter fans' ears will likely perk up here, since yes, we're talking about that Lestrange family. As in she's definitely a relative of the evil Bellatrix Lestrange from the world of Harry Potter!
And back in the Muggle world, it's confirmed that Leta has a big part in the Fantastic Beasts sequel!
First, JK Rowling tweeted this huge hint that basically confirmed that Leta is going to be a major part of the next movie:
In the tweet Rowling references a fan tweet asking who Leta Lestrange is, and links to some beautiful fan art of Lestrange. In Rowling's tweet, she simply says,
"Next movie.
On top of that, director David Yates recently confirmed that Leta would be in the sequel in an interview with Cinemablend that:
"Yes. Leta Lestrange comes into the second movie. She's quite complicated and damaged and confused and Newt is absolutely still in love with her, so she has a kind of power over him, and she, yeah, she's a kind of tragic figure, so we will see a bit more of her in the second movie.
On top of all this great news, WB announced earlier in the year that Mad Max:Fury Road star Zoe Kravitz was going to be playing Leta. She briefly appears in Fantastic Beasts in a portrait on Scamander's desk, so we're looking forward to seeing more of her in Fantastic Beasts 2, coming to theaters in 2018!