J.K. Rowling apparated to Broadway to surprise the cast and crew of "Harry Potter and the Cursed Child"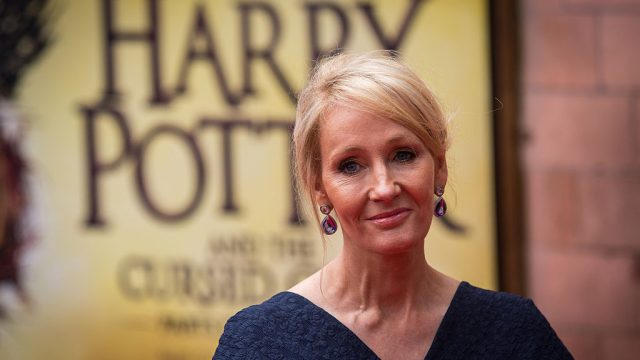 J.K. Rowling, who has inspired many a fangirl moment through the years, had a fangirl moment of her own while out in New York City. On Thursday, April 19th, the Harry Potter author and Fantastic Beasts and Where to Find Them screenwriter visited the Lyric Theater on 43rd Street. Why? To surprise the U.S. cast of Harry Potter and the Cursed Child, which will soon make its official Broadway debut.
As you could imagine, the Cursed Child cast was ecstatic about Rowling's visit to the Big Apple. The show's long-awaited U.S. debut finally opens its doors on Sunday, April 22nd after premiering in London in 2016. As part of the surprise, Cursed Child director John Tiffany teased the troupe about a "friend" he had in town.
"I know this is really, really embarrassing, but I know you don't mind," Tiffany said slyly. "I've got a friend in town and she's a big Harry Potter fan, and I said I'd introduce her to you. Is that okay?" Then, Rowling walked through the door, and everyone was on their feet.
The company jumped for joy and wiped away tears at her presence, as any true Harry Potter lover would. Hugs were shared, tears were shed, and photos were taken. It was quite an emotional moment. Fortunately, it was all captured on video for the rest of the world to see.
Watch J.K. Rowling surprise the Cursed Child cast and crew below.
https://www.youtube.com/watch?v=nWNs6qN011k?feature=oembed
Rowling was just as moved as they were, if not more.
"This is amazing," she said. "Thank you, and I can't wait. I really, really can't."
Both Rowling and the official Cursed Child Twitter account shared their excitement about her arrival on Twitter with a series of photos.
What a magical day.
You can purchase tickets to see Harry Potter and the Cursed Child on Broadway here.