J.K. Rowling just showed her support for Emma Watson in the sweetest way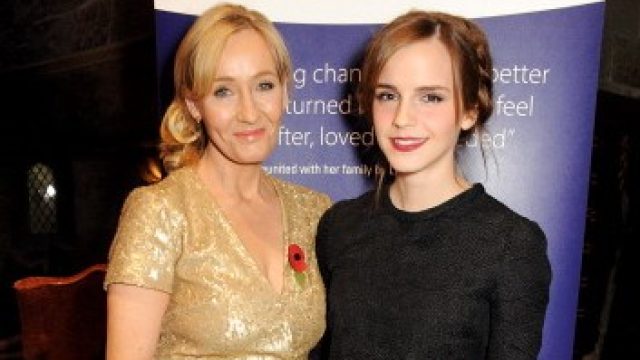 Five years (!!!) may have passed us by since the last Harry Potter film hit the big screen, but J.K. Rowling is still here for the stars that brought her story to life — and it's giving us life.
Today, Emma Watson, who played Hermione Granger, in the films, tweeted about the new emoji that appears when you type the hashtag for her (awesome) women's equality campaign, #HeForShe. It's a pretty fab emoji, TBH.

Shortly after, our hearts pretty much burst when J.K. responded to Emma with the hashtag. "Nice emoji!" she tweeted, calling Emma an "inspirational woman."

As if that wasn't enough, Emma responded with just as much love, tweeting, "RIGHT back at you. . . thank you for everything."
YEP, the cutest. Of course, this isn't the only time J.K. has publicly interacted with Harry Potter stars on Twitter. Take, for example, the time when she hilariously responded to a shirtless pic of Matthew Lewis, who played Neville Longbottom, in Attitude Magazine. "Not as bad as watching Dan [Radcliffe] in Equus, but close," she tweeted. "Warn me next time, for God's sake." 
J.K. also ribbed Tom Felton, who played Draco Malfoy, after he responded to a fan. When the fan inquired about a shirt that says "Draco Malfoy is my boyfriend," Tom responded doubting Malfoy's potential adequacy as a boyfriend. "I'm sorry girls like Malfoy," he added to JK. (And, for the record, she *totally* blames him, because he's pretty swoon-worthy.)
JK even responded to a "feud" happening between Matthew and Tom (because Gryffindor and Slytherin will always be rivals), saying, "So proud of my boys. Even after all these years, they still want to kick each other's arses."
Oh, Jo. You're such a supportive momma hen. <3