J.K. Rowling is dealing with the "Dumbledore is gay" backlash by muting everyone on Twitter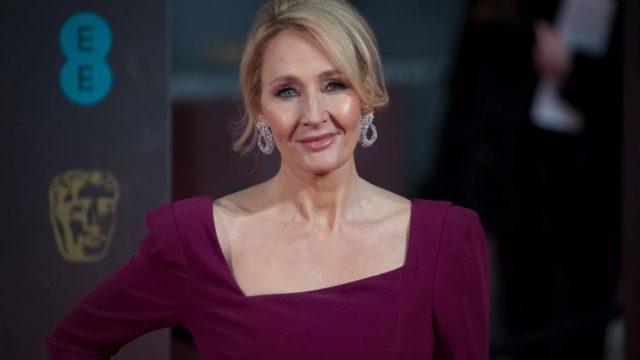 In the wake of passionate backlash to news that Albus Dumbledore won't be shown as "explicitly" gay in Fantastic Beasts: The Crimes of Grindelwald, author J.K. Rowling has discovered a powerful protective spell all her own: the Twitter mute button. The author shared her Defense Against the Disappointed Harry Potter Fans trick on Twitter this week, with a sarcastic dig that suggested irate Potterheads are getting worked up about Dumbledore before they know the full story.
Let's Time-Turner back for a sec: The whole thing started when the Fantastic Beasts sequel director David Yates told Entertainment Weekly this week that the future Hogwarts headmaster's sexuality would not be specifically addressed in the next installment of the franchise, despite Rowling famously saying that Dumbledore is gay and had fallen in love with Grindelwald as a young wizard.
Fans were, understandably, outraged.
Rowling first commented on Dumbledore's sexuality back in 2007, but his sexuality was never actually mentioned in the books. Combined with the moviemakers' recent defense of casting alleged domestic abuser Johnny Depp as Grindelwald, this straight-washing news isn't sitting well.
Rowling, however, seems to be tuning it all out. The people complaining, she said on Twitter, haven't read the screenplay, and seem to be forgetting that there are three more movies in the series that could still explore Dumbledore's sexuality. She also emphasized that she wasn't the one who actually made the comment in the EW interview.
That's all true, of course, but as fans have pointed out, this chapter in the movie series will supposedly be focused on Dumbledore and others pursuing Grindelwald for his crimes, and in her original statement about the Dumbledore and Grindelwald relationship, she said they fell in love before Grindelwald's true evil showed itself. So if the two wizards' romantic past isn't addressed at all in this film, her suggested timeline doesn't seem to add up.
Plus, with Jude Law playing Young Hot Dumbledore, this could be the gay love story we've all been waiting for in the Potterverse.
Rowling went on to further praise the mute button.
And knowing how much social media hate she probably receives, we get it. But also, it seems like fans who are justifiably upset about a storyline that would mean a lot to many people deserve an explanation instead of being muted.
Maybe, and hopefully, they'll get one. In the meantime, if you need us, we'll be drowning our frustrations in Giggle Water. Fantastic Beasts: The Crimes of Grindelwald hits theaters November 16th.