J.J. Abrams wants us all to make our own Star Wars films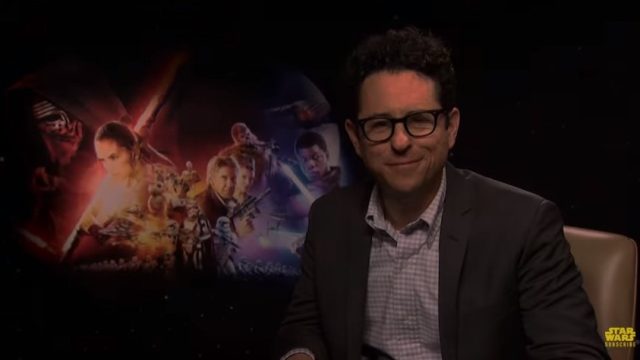 J.J. Abrams wants you to make your very own Star Wars film. Talk about intimidating. That's right, thanks to the Star Wars Film Fan Awards, you can make your own movie and see what JJ Abrams thinks. Don't worry—it's a short film, not a full-length feature, so that's a little less pressure, right? "Feel the filmmaking force," the press release says. Also, you have to base the plot "on the stories and characters of a galaxy far, far away." Of course. Would Star Wars fans and filmmakers have it any other way?!
The contest website is chock full of must-have information for you, from official Star Wars sounds to Do's and Don'ts. And you'd better get started—you have until April 24, 2016 at 11:59 p.m. PT, but this is nothing you can cram for at the last minute. Abrams wouldn't, right?
There are all kinds of genres and tones to choose from for your film masterpiece and, naturally, every filmmaker has their own style—just look at George Lucas and J.J. Abrams. Both creative geniuses, but different Star Wars styles.
This year, more people than ever can submit shorts—and you only have to be 13 and older if you're from the U.S., District of Columbia, and Canada (sans Quebec) vs. 18! Awards will be given out in many categories, including Filmmaker Select, Best Non-Fiction, Best Comedy, Best Animation, Spirit of Fandom, Best Visual Effects, and Audience Choice. A special celebration will be held wherein winners will be announced and, TBH, that's reason enough to enter, to get to go to an official Star Wars-themed party!
Winners will not only get an award, but also a bunch of Star Wars loot.
You can get the DL from J.J. Abrams here, as well as see a short montage of previous winners' films. Trust me, once you watch, it'll get your creativity and inspiration going, so go spend the day/week/month planning your short. (You can't plan too much. After all, you'll need to save time for actually shooting it.)
Also, you can see last year's winner in this link, but be forewarned—you have some serious Star Wars short film-planning to do.
A few Instagrams from the 'Star Wars' premiere have us crazy excited
30 thoughts I had while watching the new 'Star Wars' trailer 30 times
JJ Abrams just bought 1,500 'Star Wars' fans pizza, so yes he's on our cool list