Jimmy Kimmel quizzed "The Bachelor"'s Ben Higgins and Lauren Bushnell on their relationship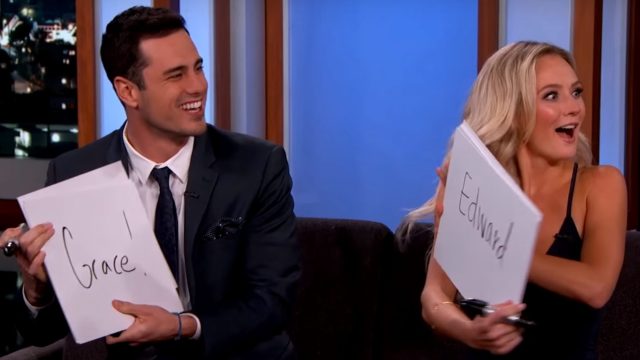 After Monday night's Bachelor finale, the crazy-in-love couple Ben Higgins and Lauren Bushnell appeared on Jimmy Kimmel Live! to gush about their budding relationship. However, it wasn't all fun and games, since Jimmy surprised them with a pop quiz–about each other.
This classic game involves Jimmy asking them both a question, such as, "What is the other's middle name?" and they have to write their answers down on a white board without any help. Then, they hold it up, and are forced to see how well they actually know each other.
Considering the premise of The Bachelor involves relationships coming together super quickly, Ben and Lauren actually knew an impressive amount about each other after such a short time, which bodes well for their future.
Of course, that doesn't mean these two didn't struggle. When it comes to things like names of each other's uncles and mothers' maiden names, they were stumped, but that's okay. Ben and Lauren have the rest of their lives to get to know each other. All that matters is that they're happy right now—and it looks like they really are happy.