Jimmy Kimmel is hosting the Oscars again, and we're so looking forward to 2018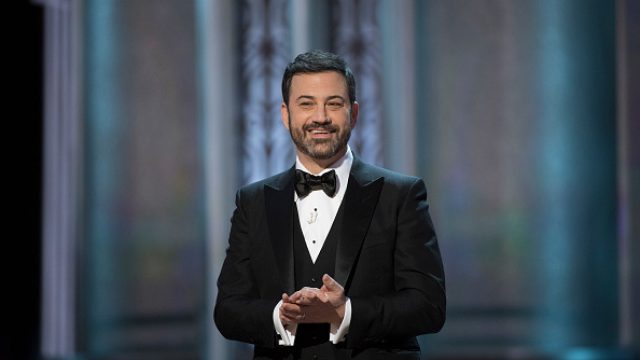 Jimmy Kimmel is a delight to watch on TV. We see that every night on his show Jimmy Kimmel Live! We saw it when the entertainer hosted last year's Oscars ceremony. And since Jimmy Kimmel is hosting the 2018 Oscars, we'll get to see even more of his onstage charisma.
Of course, one of the most unforgettable moments of last year's Oscars ceremony was the "Best Picture" mix up at the end of the night.
But Kimmel and the rest of the crew handled the mishap with grace. We have no doubt that he will likely use it as fodder for some opening monologue jokes in the upcoming show, and we seriously cannot wait.
In fact, he already started teasing about it in his official social media confirmation of the gig back in May of 2017, writing, "Thanks to @TheAcademy for asking me to host the Oscars again (assuming I open the right envelope)."
According to The Hollywood Reporter, Kimmel even playfully hinted that they'll have all sorts of fun gaffs in store for viewers during the ceremony.
He said, "If you think we screwed up the ending this year, wait until you see what we have planned for the 90th anniversary show."
Kimmel is simultaneously hilarious and heartfelt. Most recently, his emotional monologue about his newborn son's health struggles had tons of people in tears. He can make us tear up from laughter or just from his honesty. And he showed what a great host he could really be throughout the highly-rated 2017 Academy Award ceremony.
The president of ABC Entertainment,Channing Dungey, is beyond excited to welcome the dynamic performer back as host.
She told The Hollywood Reporter, "After just one year, we can't imagine anyone else hosting The Oscars. Jimmy's skillful command of the stage is invaluable on a night when anything can happen — and does."
This hosting announcement comes a bit earlier than usual, but it will give Jimmy and the rest of the production team plenty of time to prepare for the big event. The 2018 Academy Awards will officially take place on March 4, 2018. So be sure to save the date.