Jimmy Kimmel is facing backlash after an offensive Melania Trump joke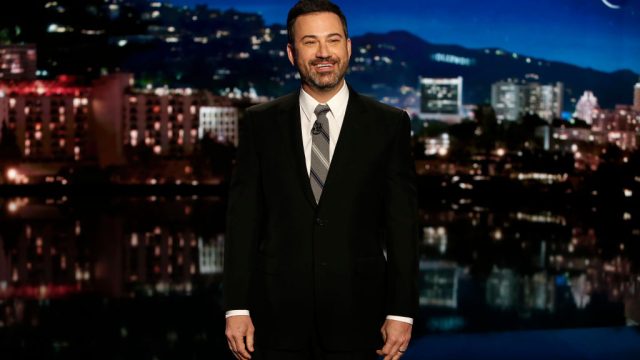 Since President Donald Trump took office, comedians have relished in parodying members of the White House. Late night host Jimmy Kimmel is among those taking aim at the president, at one point even imagining what Trump's official presidential portrait will look like. But sometimes, comedy goes too far, and now Kimmel has been called out for a joke he made about First Lady Melania Trump.
In an April 2nd segment on Jimmy Kimmel Live, Kimmel showed a clip of the first lady reading to children during the White House Easter Egg Roll. The comedian seemed to make fun of the first lady's Slovenian accent, imitating the way she pronounced the words "this and that" and laughing about it.
In response to Kimmel's segment, an online petition launched asking those who signed to boycott Jimmy Kimmel Live. As of this writing, the petition had racked up more than 170,000 signatures, well above its goal of 50,000.
Fox News host Sean Hannity was also among those criticizing Kimmel for his treatment of the first lady. On his show, Hannity called Kimmel's segment a "despicable disgrace" and labeled Kimmel an "ass clown."
https://www.youtube.com/watch?v=EfjtBa3INBw?feature=oembed
Others also took issue with Kimmel mocking the first lady's accent.
false
false
Hannity's retort to Kimmel set off an entire Twitter feud. Kimmel first responded to the Fox News host's comments by saying that Hannity was a "whole ass circus." And in a later tweet, the late night talk show host stirred more controversy by writing to Hannity "don't worry you'll get back on top (or does Trump prefer you on bottom?)" Members of the LGBTQ community expressed outrage, with one op-ed in the Daily Beast writing that Kimmel's comments were homphobic.
Yesterday, April 8th, Kimmel issued an apology on Twitter, writing that the hatred on both sides of the feud had been "harmful to our country." Kimmel also apologized to the LGBTQ community for his comments about Hannity, writing that he "certainly did not intend to belittle or upset members of the gay community."
While elements of the Trump administration are worthy of criticism, such as the president's repeated dishonesty, Kimmel's actions in this case were not fair. Kimmel should never have mocked Melania Trump for the way she speaks, and nor should he have attacked Hannity with a joke about homosexuality. We hope that, in the future, Kimmel and all comedians will be more mindful of the impact jokes can have.