"Jimmy Kimmel Live" will have the best guest hosts while Kimmel takes time off for his son's surgery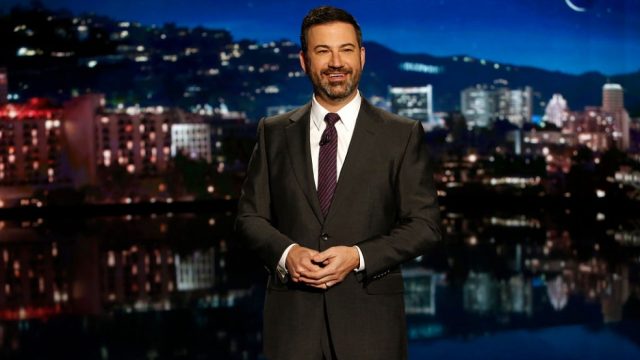 Even though it's a bummer to see him take leave, he always makes sure we're in good hands. Jimmy Kimmel chose the best Jimmy Kimmel Live hosts to take over in his absence this week, as per usual. Earlier, he had talents like Jennifer Lawrence, Dave Grohl, and Channing Tatum — and in May, Kristen Bell took over for an episode and totally nailed it. Since he's going to be spending his time taking care of his recovering son, we'll get to see even more celebrities show off their hosting capabilities.
Kimmel's seven-month-old son, Billy, was born with heart defects. After his birth, Kimmel announced that he already underwent one surgery, and had another one scheduled in the future for him to avoid further complications. While the surgery was originally set for October, the Associated Press reported that it was postponed due to household illness.
Since Kimmel's teary monologue about how much young Billy had already underwent right after birth, he's been a strong advocate for health insurance, noting that no parent should have to choose whether or not to save their child based on the expenses involved. Fans worldwide have also been interested in following Billy's journey.
While Billy's second surgery reportedly went well, Kimmel is taking some time off to spend with his family. Last night, Chris Pratt was scheduled to fill in for the host, and as expected, he did an incredible job.
Here are the other celebrities that we'll see this week.
Tuesday, December 5th
Tracee Ellis Ross will be guest hosting, and Mary J. Blige and Amanda de Cadenet will be the featured guests. The musical artist will be Miguel, featuring Travis Scott.
Wednesday, December 6th
The guest host will be Neil Patrick Harris, and he'll be interviewing Vanessa Kirby and Jules Sylvester — who's scheduled to bring some animals along.
Thursday, December 7th
Melissa McCarthy will be the guest host, and she'll be interviewing Octavia Spencer and Dave Franco. Hanson will be the musical guest.
We're sending nothing but love to Kimmel's family — and while we'll miss him on the show, we have to admit that we're so excited about the lineup he put together.