Jimmy Kimmel will host the 2017 Oscars and here's how we know he will slay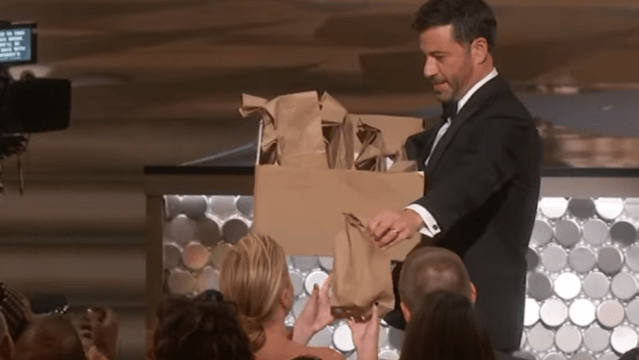 The Academy of Motion Pictures Arts and Sciences have officially named Mr. Jimmy Kimmel host of next year's 89th Academy Awards on ABC on February 26, which guarantees that 2017 is already off to great start. After a super successful stint as Emmy host in 2015, Kimmel is primed and ready to fill the shiny black shoes that Chris Rock gallantly filled earlier this year. How do we know he'll nail it? Well, the daily practice of hosting Jimmy Kimmel Live! is sure to get the funnyman into Oscar mode. Most likely Kimmel will be helped out by a few of his normal staff writers, so if you're a fan of the dry, observational humor of the man who has become Matt Damon's worst nightmare, you're in for a real treat come February.
We wrangled up some of Kimmel's greatest hosting moments, below. Think of it as a virtual resume.
https://www.youtube.com/watch?v=UwyM5M74syM?feature=oembed
We'll open with Kimmel's mini-roast of Matthew Mcconaughey in 2014. Mcconaughey was mid-winning streak; Emmy nominated for his work in True Detective after winning the Oscar just months before for Dallas Buyers Club. The latter is a role for which he lost almost 40 lbs., hence Kimmel's sarcastic fat joke.
https://www.youtube.com/watch?v=VIM2FA8Scnk?feature=oembed
In perhaps the most bizarre and insane moment of the Emmys last year, Kimmel waxed poetic about how easily he could name whatever winner he wanted, unless someone, of course, got a glimpse of the announcement card in his hands. One way to make sure the winner's name remains unseen? You could eat it. Yes, physically chew it up and swallow it.
https://www.youtube.com/watch?v=bOJndrIrMQY?feature=oembed
And then there's this. The time two enemies came face to face over Kimmel's own loss in the Variety/talk series category. If you haven't heard of Matt Damon and Jimmy's rivalry, well consider this your gentle invite out from under that cozy little rock. Watch Damon loudly chomp through this antagonistic bit that we think? is dramatized for TV …maybe. https://www.youtube.com/watch?v=y3ck_iFRHOs
Even if Kimmel isn't your cup of tea, he's got you covered. Here's a quick clip of 2012's leading female TV actors (Kathy Bates! Christina Hendricks! Naked Lena Dunham!) punching the "botox" out of Jimmy's botched face pre-show. Strangely therapeutic, is it not?
https://www.youtube.com/watch?v=sla0lcVWH6Y?feature=oembed
And finally, the most heart-warming of the bunch. Here's the time Jimmy's real life mom made 7,000 peanut butter and jelly sandwiches packed up like lunches for all the attending guests (yes, even the ones in the very back row!), who he supposed hadn't "eaten since Labor Day". This is just one of the goofy, lovely and delightfully over-the-top type antics that scored Jimmy Kimmel one of the most coveted hosting jobs in Hollywood. Thanks, Mrs. Kimmel!
Okay, one more. https://www.youtube.com/watch?v=u1T8SHLTT94
Honorable Mention: the time Jimmy refused to let 81-year-old Maggie Smith's Emmy be mailed to her because she was a no-show to the ceremony. Savage.