Jimmy Kimmel just responded to critics of last week's emotional monologue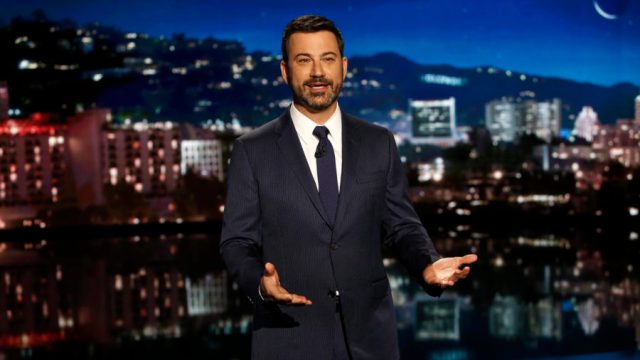 Officially back from his paternity leave, Jimmy Kimmel addressed critics of his emotional healthcare monologue that went viral last week, and he understandably had plenty to say.
To recap: Last week, the late night host tearfully revealed his newborn baby's health crisis, opening up about his son's heart surgery in a moving monologue on his show. The video has been watched and shared more than 10 million times (!!), and featured an impassioned call to Congress and lawmakers about the importance of affordable healthcare for all Americans.
Jimmy returned to his show last night, and opened the show by discussing the reaction to his speech.
https://www.youtube.com/watch?v=SToeM55KMzU?feature=oembed
He joked, "I'd like to apologize for saying that children in America should have health care. It was insensitive. It was offensive, and I hope you can find it in your heart to forgive me."
Directly addressing a Fox News interview with former Speaker of the House Newt Gingrich, in which Gingrich said a hospital would never turn away a sick child, Kimmel added, "Yes, it is true that if you have an emergency they will do an operation, and that's terrific if your baby's health problems are all solved during that one visit. The only problem is that never ever happens."
Kimmel remarked, "We've had a dozen doctor's appointments since our son had surgery. You have a cardiologist, a pediatrician, the surgeons, some kids need an ambulance to transport them – and that doesn't even count parents who have to miss work for all this stuff."
Kimmel spoke with Republican Louisiana Senator Bill Cassidy, who told CNN that new healthcare laws should pass "the Jimmy Kimmel test," meaning that "a child born with congenital heart disease be able to get everything she or he would need in that first year of life."
In his signature brand of humor, Kimmel joked with Cassidy, "Thank you for naming a test after me. I always figured if I ever got a test named after me it'd be for some embarrassing sexually transmitted disease."
Kimmel also shared the wonderful news that his baby, Billy, is getting better, sharing a sweet video of Billy smiling. Kimmel expressed his gratitude to supporters who donated to the Children's Hospital of Los Angeles, adding, "What a humbling outpouring of support. So many people made donations to CHLA and my wife and I are very grateful for them."
We're so happy to see public figures like Kimmel furthering the conversation about the importance of healthcare in the United States, and are thrilled that Billy is on the mend.