Jimmy Kimmel thinks this is what Donald Trump's presidential portrait would look like, and it's accurate AF
Dating all the way back to George Washington, presidents and their first ladies have received official portraits to commemorate their time at the White House. On February 12th, 2018, Barack and Michelle Obama revealed their portraits at the Smithsonian National Portrait Gallery to much awe and applause. Jimmy Kimmel, meanwhile, took the opportunity to (lightly) roast current President Donald Trump by imagining what his future portrait might look like.
But before we get into that — the Obamas' portraits are legendary because they mark the first time that a black artist has been commissioned for the job. Kehinde Wiley depicted the former president, while Amy Sherald illustrated the first lady. The gorgeous, colorful images captured the internet's hearts, as did Michelle's speech at the time of unveiling when she exclaimed that she was "thinking of all the young people, particularly girls and girls of color, who…will see an image of someone who looks like them hanging on the wall in this great American institution."
https://twitter.com/udfredirect/status/963075489559646208
Of course, the late night talk show circuit had to poke a little fun at the moment, and Kimmel joked that this is what Barack's portrait should have looked like:
But Kimmel's imagined portrait of Trump was even saltier. Because the president gets to choose the artist, Kimmel joked that Trump's future portrait could only look like this: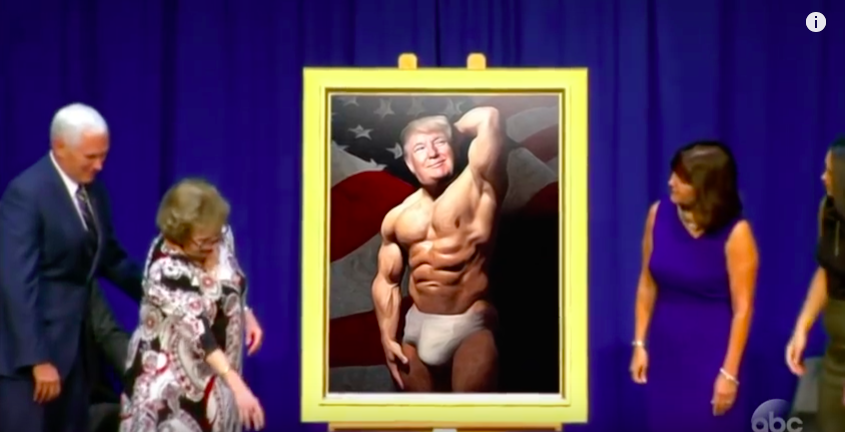 This is the most Trump-ian thing ever. Touché, Kimmel.
https://www.youtube.com/watch?v=JbMl-bcSQW4?feature=oembed
To be fair, Kimmel's imagining isn't nearly as savage as what Twitter had in mind for Trump's would-be presidential portrait.
Spot on.