Jimmy Kimmel brought his baby son to last night's show after a second heart surgery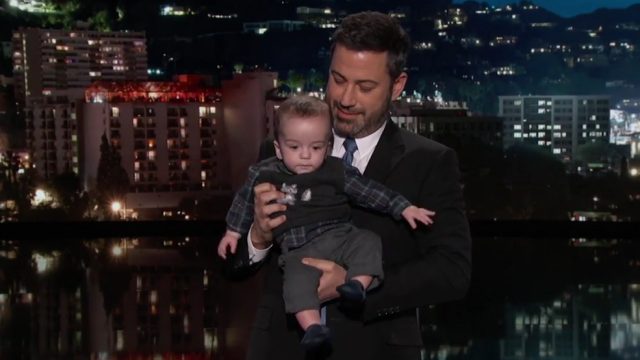 Jimmy Kimmel's young son Billy is on the mend, and we couldn't be happier. After taking a brief break from his show to tend to his family, Kimmel brought Billy on Jimmy Kimmel Live to talk about his recent heart surgery. Billy was born with a heart defect called tetralogy of Fallot with pulmonary atresia, which required multiple surgeries to fix. The first happened shortly after he was born. "But look, he's fine everybody! He may have pooped, but he's fine," Kimmel assured the crowd.
Kimmel, like most of us, got a little teary looking at Billy. It's important to remember that the 7-month-old has gone through a lot since his birth. Kimmel's son was born on April 21st of this year, but stayed adorably stoic as his father updated their fans. "Daddy cries on TV, but Billy doesn't," Kimmel said, laughing at himself.
After thanking the talented friends who helped take care of the show in his absence, Kimmel used the time to talk about a program that's become quite important to his family — CHIP.
"CHIP is the Children's Health Insurance program. It covers around nine million American kids whose parents make too much money to qualify for Medicaid but don't have access to affordable coverage through their jobs," Kimmel said, noting that about one in eight children depend on it.
https://www.youtube.com/watch?v=yqulWPljawo?feature=oembed
The late night host was vocal about why this insurance program is so important to both Republicans and Democrats.
Unfortunately, Congress failed to approve funding for the program, meaning that many of these children won't be protected in the coming year.
"About two million CHIP kids have serious chronic conditions," he said. "I've had enough of this...Why hasn't CHIP been funded already?"
By bringing Billy on set, Kimmel helped put a face to a problem that affects many. While Kimmel's son was in good hands, many other children out there aren't as lucky. Kimmel urged his fans to call the House and Senate at (202) 225-3121 and tell them to cool it on tax breaks, and focus on making sure children are insured.
Billy, at well under a year, is helping make a difference in the world today — and we couldn't be prouder.