Jimmy Fallon's 2017 Golden Globe opening is full of celeb cameos and we can't wait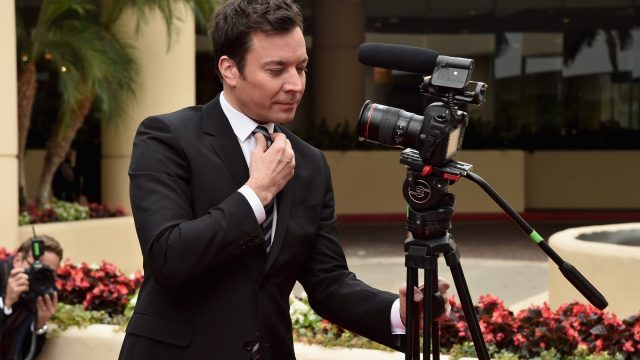 Jimmy Fallon is hosting Sunday night's 74th annual Golden Globes awards, and by the looks of things we're in for a treat. The New York Post's Page Six reports that Jimmy Fallon's 2017 Golden Globe opening will lead with a spoof of a song from La La Land, probably (hopefully) "Another Day of Sun," the film's colorful, high-energy opening number. And he'll stock the spoof with a bunch of celeb cameos, as is the Fallon way.
"The opening is fun, we've been working on it, filming different stuff here and there for it for about three months," Fallon told Us Weekly. "It's spoofing one of the nominated movies, and we have a lot of fun cameos, we have a lot of good favorites. I don't want to name names but Justin Timberlake … I won't say anything, this is not to go on record but Ryan Reynolds … and don't even ever talk about Tina Fey. No one is in this thing."
Along with Reynolds (nominated for Deadpool) and Timberlake (nominated for his Trolls original song, "Can't Stop The Feeling"), Nicole Kidman is also expected to make an appearance during the opener. She's up for a Globe for her role in Lion.
"You're going to watch it and say, 'Oh, I can't believe they're in this — whoa, this is cool! Oh, that person!'" Fallon told Us Weekly. "A lot of fun cameos, Fun, and friendly, and joyous, and cool. It will put you in a good mood. I'm excited."