Jimmy Fallon, Judd Apatow, and Keanu Reeves performed stand-up routines written by kids, and it's even better than it sounds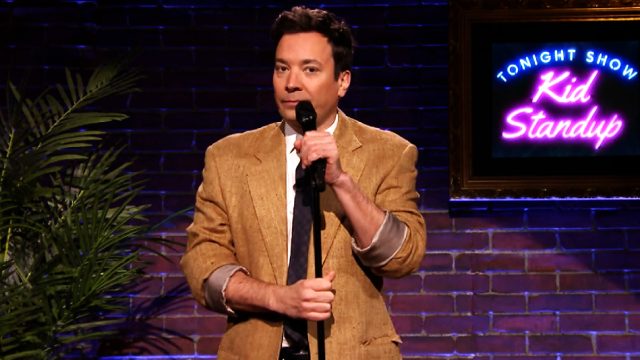 What happens when you get three talented and established men in one room together? You get cheesy stand-up, of course! Last night on The Tonight Show, Jimmy Fallon, Judd Apatow, and Keanu Reeves performed stand-up comedy that'll make you giggle. That's because it was written by some of the goofiest people we know — children.
Sure, you've probably heard a lot of these before. But you've never heard them with the delivery that only Fallon, Apatow, and Reeves could provide.
Really, we needed a segment like this. Not only did it make us smile, but it reminded us that children always look at the bright side of things (and form incredible punchlines based on what they observe.)
https://www.youtube.com/watch?v=hLRemMpWB8o?feature=oembed
All of the jokes were submitted by elementary school students, otherwise known as The Tonight Show's tiniest fans. Just imagine how cool it must feel to have Keanu Reeves read something you wrote for such a wide audience!
It's surprising that Apatow was the one who chose the "Jerry Seinfeld" persona — based on his past impressions on Saturday Night Live, we figured that Fallon would snag that impersonation up.
With so many funny jokes, it's tough to pick a favorite. But here are some of them:
"How do you make a moose float? Two scoops of ice cream, root beer, and one moose." - Jodi, age 7
Thanks, Jodi. Now we want ice cream. (But to be fair, we always want ice cream.)
"What did the nosy pepper do? Get jalapeño business!" - Dylan, age 6
This is almost as solid as the "nacho cheese" joke. Wordplay is an incredible thing.
And finally,
"How many tickles does it take to make an octopus laugh? Ten-tickles!"- Makenna, 6
Pretty darn cute, right?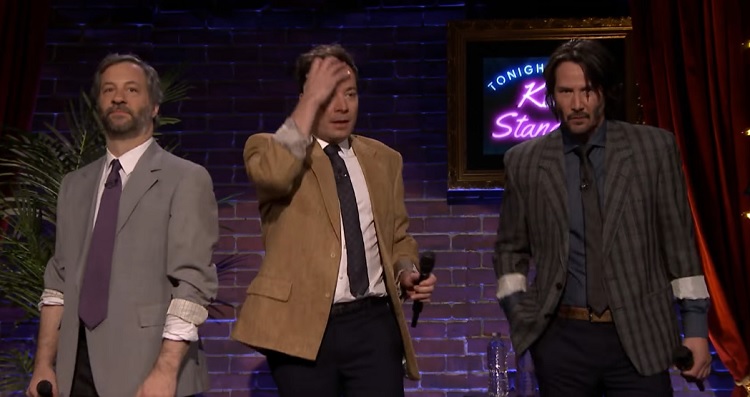 We like how all three "comedians" joined forces at the end to tell one final joke together. And even though the joke was a bit dark, hey — they can't all be about octopus tickles.
We definitely hope that The Tonight Show continues to showcase young comedians! Who knows? These kids might end up writing for the late night show in the future.