Jim Gaffigan revealed that his wife just had surgery on a "large" brain tumor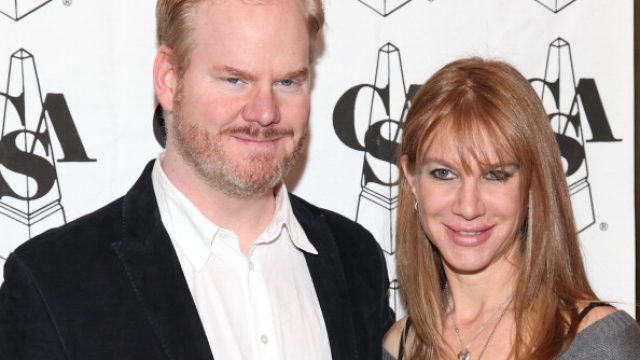 We never like to hear about health scares, which is why were super worried to hear that Jim Gaffigan's wife Jeannie had a brain tumor.. The good news is she seems to be on the mend and recovering smoothly.
"Two weeks ago an MRI revealed @jeanniegaffigan had a large tumor around her brain stem that was life threatening," the comedian shared on his Facebook page earlier this week. "After nine hours of urgent surgery the tumor was completely removed. She is now recovering at home. We thank you for your continued prayers."
 Phew—that is wonderful news following what must have been a terrifying two weeks for the Gaffigans.
Jim, 50, and Jeannie, 47, share five beautiful children and a career. The two created The Jim Gaffigan show on TV Land, and Jeannie also worked on her husband's most recent album, Cinco, as an executive producer, co-writer, and director.
Since Jeannie's surgery, it seems like the tight-knit family of seven is focusing on each other, with their young kiddos checking in on their recovering mama. As a matter of fact, we're betting they're helping give her the best medicine of all: love and laughter.
Jim and Jeannie tied the knot back in 2003, and share two daughters, Marre and Kate, as well as three sons, Jack, Michael and Patrick. Their eldest daughter, Marre, actually just rang in her 13th birthday this week.
Here's to hoping Jeannie has a successful and lasting recovery. In the meantime, all of our thoughts, prayers, and well wishes are with her and her beautiful family.