13 jewelry brands to help you unleash your inner witch this Scorpio season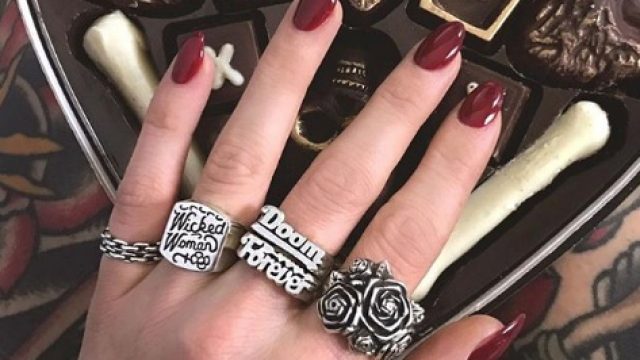 Do you feel the darkness calling you, the night beckoning you? It's the season of the witch.
Time to embrace our inner mystic, to connect with the cycles of the earth, to adorn ourselves in beautiful talismans and then walk into the unknown, head held high. Whether or not you identify as a witch is irrelevant; we all have a mystic in us. And while unleashing it is a journey upon itself, we can begin by adorning our temple (aka our body) with beautiful jewels that remind us of the power within.
To celebrate Scorpio season, here are 13 bewitching jewelry brands that will help you unleash your inner witch, no black cat necessary. Whether you're channeling your essence through a rose quartz necklace, or a silver scorpion ring, embrace the season of the witch with an amulet (or two) or just a new brand to drool over. Plus it's sweater season and what looks better with a chunky knit than oversized, dramatic jewels?
No matter what you pick, may you cast a find something that inspires your magick. Layer pieces for extra energy, and don't forget to sage them regularly and leave them out in the full moon to charge. Never doubt the power of a sale or a selfie. So it is.
https://www.instagram.com/p/BZ1fl7ShNCF
Barbara Pellegrino is known for her use of giant, raw stones. If you're looking to infuse your aesthetic with some crystal energy and an eye-catching piece, then this is your brand. Whether you pick an amethyst ring or a quartz necklace, these avant-garde pieces are sure to amp up your style.
https://www.instagram.com/p/BaCFCkzFoRh
If you've been looking for a scorpion ring or a snake choker, than may we introduce you to Mercury Hour? This brands metal work is out of this (under)world, with macabre motifs and occult influences throughout their entire collection. These talismans are a dark treasure you'll want to get your hands on ASAP.
Inspired by Egyptian mythology, the lost world of Atlantis, and the occult, Indigo Unveiled features delicate, handmade pieces with a twist. There are lockets that double as spells, hand necklaces that double as protective amulets and geometric necklaces that actually spin. Bottom line, this is for the minimalist witch who knows what she likes.
https://www.instagram.com/p/BaPnfYVB-Pr
Perhaps the witchiest of them all, Blood Milk is Scorpio season personified. With oversized pentacles, coffin rings and a whole slew of occult-inspired goods, these handmade pieces go from coven meeting to date night instantly. Whether you're looking for an animal to protect you or a strand of mourning beads to remember loved ones with, Blood Milk has it all.
Fay Nowitz is a queer witch who creates handmade talismans inspired by armor and magick. Rings double as weapons and sacred invocations and necklaces feature protective runes. These photogenic pieces also moonlight as a pretty prop for your Instagram, but don't worry, their magick goes way deeper too.
Omnia Studios create pieces out of our wildest dreams. This line of fine jewelry seems simple at first… until you take a closer look. There are hands holding pearlescent orbs and delicate planchets, bats on rings with wings outstretched, and lantern necklaces with delicate crystals. This handmade line features an array of dazzling stones and metals for the mystic who likes to treat herself right.
Technically a leatherwear and clothing brand, Deandri just so happens to make some of the most striking chokers around. The vegan shop is perfect for the goth darling in us all. So whether you're looking for a lace up choker or an oversized O-ring, these unexpected pieces will infuse your aesthetic with some Wednesday Addams vibes.
https://www.instagram.com/p/BaAxku3lta6
Made for the heavy metal witch in us all, Souvenir Jewelry features plenty of rock and roll edge that will leave you wanting every piece. There are rings with bones in the shape of a pentacle, skull and dagger earrings and chokers with thorns. Not for the faint of heart, Souvenir Jewelry is for the rebel who's unapologetic in her style.
https://www.instagram.com/p/BaOsMzfjrmt
Sometimes we're subtle, sometimes we're not. In the case of the latter, we know we can shop at Of Stars and Wine. With chokers fastened with pentacles, moons, stars, and other bewitching motifts, this shop has a little bit of everything. And with an array of cosmic pieces, you can show off your otherworldly nature, no stress necessary.
For those of us inspired by the creatures of the earth, Jamie Spinello's creations touch the wilderness of our souls. With two headed snakes bestowed with labradorite, hand carved garden spiders, and blooming flowers done in sterling silver, these piece will bring mother nature to you. You'll be (witch) queen of the jungle in no time with these.
11LSD Jewellery
If you like your jewelry with a spooky, gothic twist, then LSD jewelry is sure to take you on a trip. Pendants are held afloat by skeleton hands, raven claws are cast in solid bronze and alchemy and spirit infuse simple, dainty necklaces. There's even a Deathly Hollows necklace for anyone who wants to channel their inner Hermoine.
Not for the faint of heart, Extollo Jewelry features western style adornments with a dark twist. Teeth are fashioned into rings, tusks are fashioned into pendants and coffin nails are fashioned into earrings. This macabre line is delicate with a sour aftertaste, perfect for those of us who like the darkness as much as the light.
Whether you're longing for earrings with the moon phases on them, or something more delicate like California poppies, Ritual Remains' pieces feature inspiration from nature and her silhouettes. If you're a hoop girl, these handmade earrings will spark your witchy flame. And if you prefer a bangle or a ring, they have plenty of those too.
Blessed Be!