We know what happened to Jessica Walter on the Arrested Development set — and the showrunner says he was oblivious to it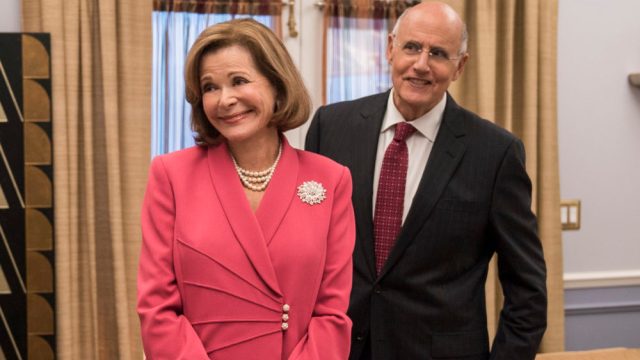 It would seem the men of Arrested Development have serious self-reflecting to do following the show's handling of an on-set incident between stars Jeffrey Tambor and Jessica Walter. In a new interview with Deadline, series creator Mitch Hurwitz has opened up about the incident, revealing that he was short-sighted in realizing how big of an incident it was — and its powerful effect on Walter.
Hurwitz, who wasn't on-set during Tambor's outburst, admitted to being oblivious about the incident's impact on Walter, who told the showrunner that it was "upsetting" for her. He said, "I'm guilty of not realizing how deeply upsetting that was for Jessica. I heard about it and saw parts of it in the dailies, although the part I saw didn't seem that—I don't know—momentous. But fights and outbursts always start with things that are smaller."
While Tambor first referenced a verbal altercation between the actors in a profile for The Hollywood Reporter in an attempt to rehabilitate his image after being fired from Transparent due to sexual misconduct — allegations he continues to deny, though he admits, instead, to having issues with his temper. The incident made headlines after Walter broke down during a New York Times roundtable featuring the Arrested Development cast, including Tambor. The NYT interview, which was published just days before the first half of Season 5 episodes were released on Netflix, saw the present male cast members try to downplay the incident, while a visibly upset Walter defended herself.
While neither the NYT roundtable nor Tambor's THR profile detailed the altercation, Hurwitz gave Deadline a glimpse into what actually happened on set.
"It was something minor, like he was doing a speech and Jessica wanted to redo something in her speech, Hurwitz revealed. "She's a perfectionist, which I have a horrible case of myself, and he's sort of loose with it, finds his way back if he gets off course within the speech, for instance…And she was resetting and he got upset and was like, 'Oh, come on! You always do this!' He continued for a bit and she apologized. 'I'm sorry, Jeffrey, I'm sorry.' But he continued and then walked off — [walked off] the set apparently, but he walked out of frame.
In the interview with Deadline, Hurwitz also admitted that it wasn't until the NYT piece came out that he realize how bad the incident was for Walter. He said, "There was more to it than I realized, and it's not my place to opine about what I believe was the weight of it. I misinterpreted what I understood to have played out, and more importantly the depth of Jessica's pain about it. I feel so bad about that. I feel bad because I love these people—I feel bad for very personal reasons…I wish I'd known, or made a greater effort to know, the pain that it caused."
Walter's co-stars Jason Bateman, Tony Hale, and David Cross have since apologized for their belittling of her feelings during the NYT panel.
While we're glad to see Hurwitz and Walter's co-stars admitting they were wrong to minimize the incident, it's unfortunate it took a media uproar to get them to come to this understanding. It's also frustrating that Walter's continued professionalism on-set after the incident — which Hurwitz admitted to clouding his understanding of Walter's pain — was seen as a sign that Tambor's outburst no longer upset her.
She's a professional who, unlike Tambor, doesn't seem to be difficult on-set so of course, she wasn't going to let his abhorrent behavior cloud her performance as Lucille Bluth. Hopefully this serves as a valuable lesson for the menof Arrested Development.
The first batch of episodes from Season 5 of Arrested Development are currently streaming on Netflix.