Krysten Ritter feels "safe" with all female directors for Season 2 of "Jessica Jones"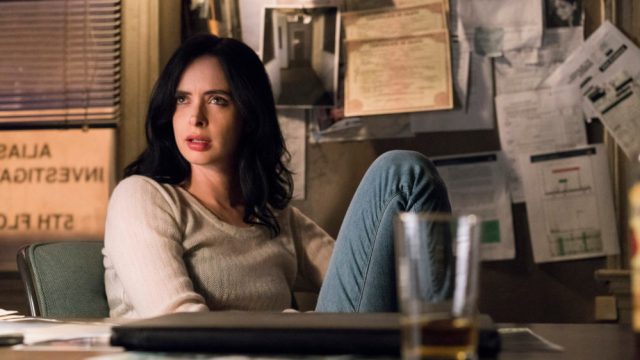 After an incredible first season, Jessica Jones is finally returning to our Netflix queues with new episodes tomorrow. And while it's no surprise that Season 2 continues to uphold the feminist themes first introduced last season, executive producer Melissa Rosenberg went even further with female empowerment this time around. While Jessica Jones Season 1 had a 50/50 breakdown with gender behind the scenes, Season 2 is exclusively helmed by females. It can't be stated enough: In a time when Hollywood is still so unfortunately male-driven, that is an incredible feat.
Speaking with Collider, series star Krysten Ritter opened up about how all 13 episodes of Season 2 are directed by women. Calling her thrilled would be an understatement. "I love it!" she said. "It was really great. Our show is already so female. Season 1 was so female. It's already in our DNA. But having all women this season was exciting because it's never been done before, which is stupid."
She even explains how having female directors helps her connect with the material more, which is extremely important, as Jessica Jones explores themes of sexual assault and rape throughout the series.
"The content that we cover and the dark subject matter and the sexual stuff, to be honest, having those conversations with a woman is a lot easier for me," Ritter said. "I feel much more at ease and safe, and able to be vulnerable and raw when you're planning this stuff out with a woman. It just takes something away from a conversation when you can't be really real and raw."
Hopefully this kind of gender equality is only a sign of more good things to come in the industry. This is definitely a big step forward.
"Within the industry now, there's a lot of mandates to hire women and for diversity, which is amazing because that wasn't there ten years ago," Ritter said. "They went into this season with an eye to hire as many women as possible and to represent diversity, and then they started interviewing people and wound up with more than half, and then more than three-quarters, and then decided to do it all. Those women ended up being the best people for the job. I can't wait for it to be totally commonplace and not that crazy."
Preach, girl. We are right there with you.