We're loving Jessica Chastain's firework of a dress at the Cannes awards ceremony
Lady stars have been bringing their red carpet A game to Cannes this year. And our beloved Jessica Chastain is no exception. The girl has rocked casual day dresses, stunning classic evening silhouettes, and just generally classed up the joint.
But her final look of the festival may be our favorite!
During this years Cannes closing ceremony, jury member Jessica Chastain wore a firework of a dress and now we ALL want the knockoff version.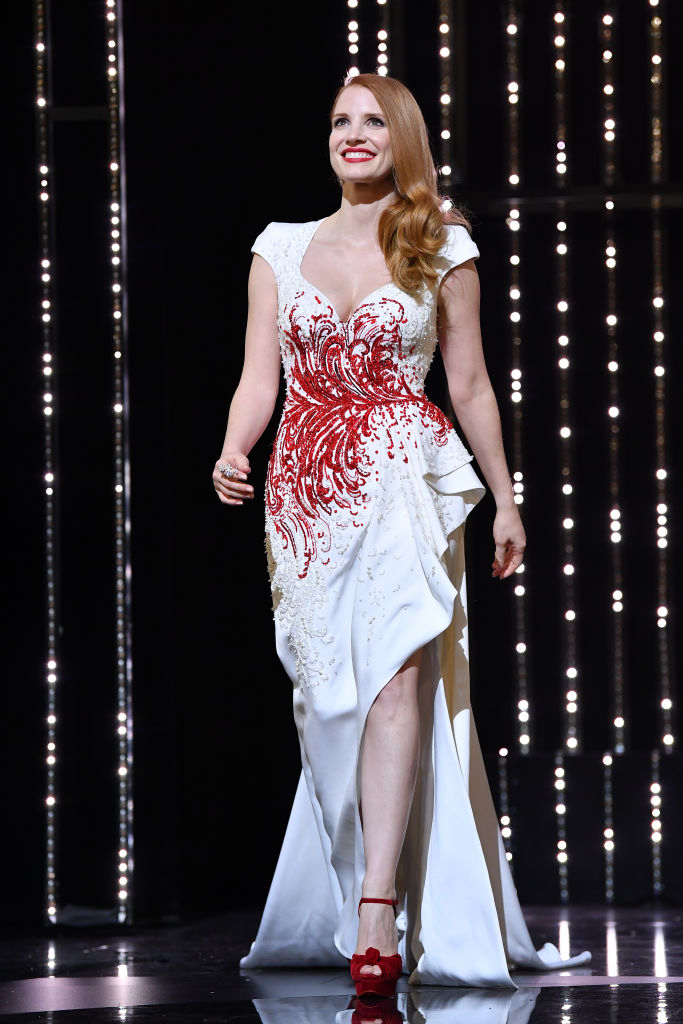 HOLY FASHION GODS. Jessica Chastain, you are a straight-up vision!
We LOVE this look. A white gown can sometimes look, like, JUST this side of bridal. Not this time. Because check out that glorious crimson beaded firework on your midsection. And yes, the beading is the main attraction on this look. But can we also talk about that freaking gorgeous neckline and that unbelievably cool high-drama skirt. This is a white gown that is definitely NOT bridal. Or if it is, um, we really want to be invited to that wedding.
Here's Chastain working that glam-bam skirt out on the famed Cannes red carpet staircase: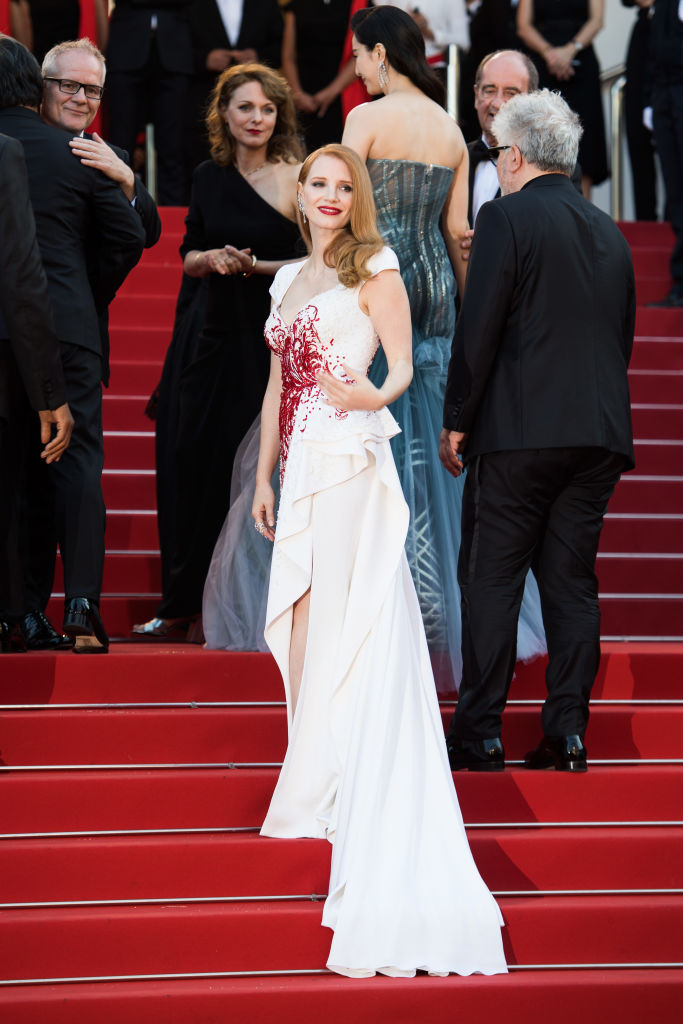 Ooh, have we not seen the back of this dress yet? Let's do the back, it's just as gorgy as the front!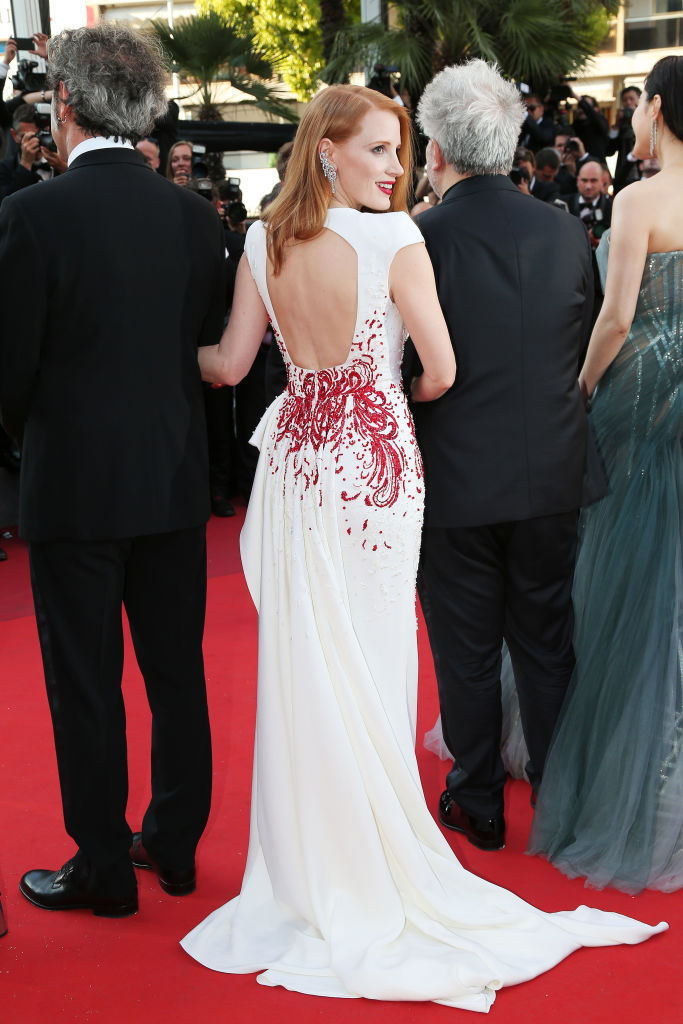 Oh, we just realized we haven't talked about the styling yet! And it's freaking GREAT styling, too!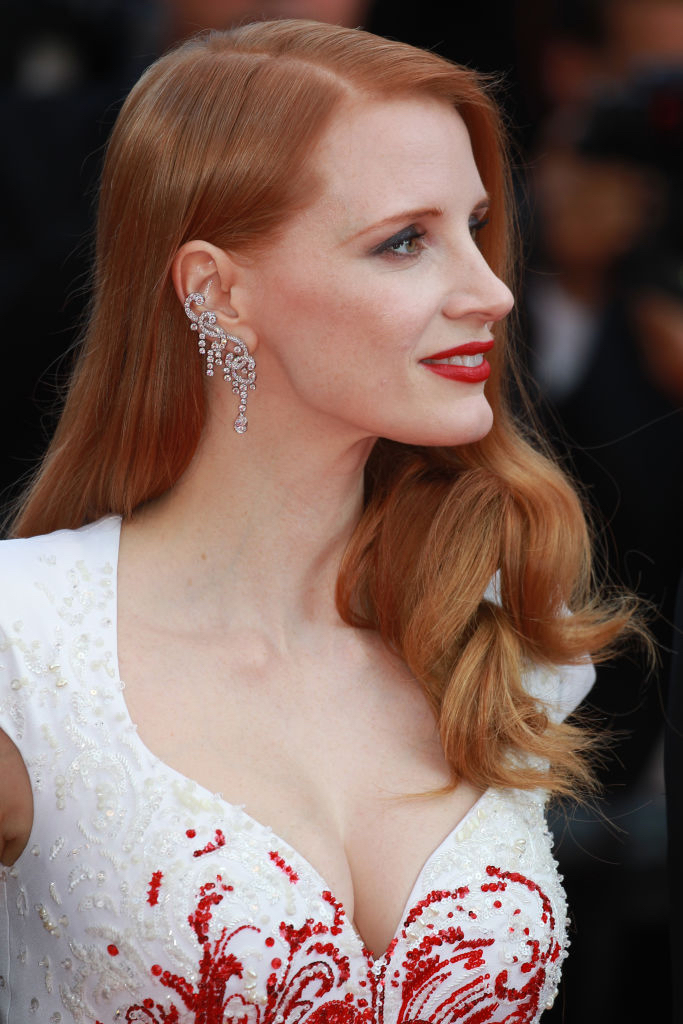 Earrings, earrings, we WANT these earrings. They pick up the pattern on the dress perfectly and just drip sparkle and glitz. Speaking of perfect styling, let's talk about how Chastain's red lip and crimson peep toe pump perfectly pick up the red in her dress. And the loose waves over the shoulder is such a cool Old Hollywood move. Like an updated Veronica Lake. Styling team, you did good, guys.
Jessica Chastain, you nailed it as per usual, Miss Lady. We're off to go search for a knock-off for our next fancy shindig!