Jessica Biel looks hilarious in her NSYNC-era Justin Timberlake costume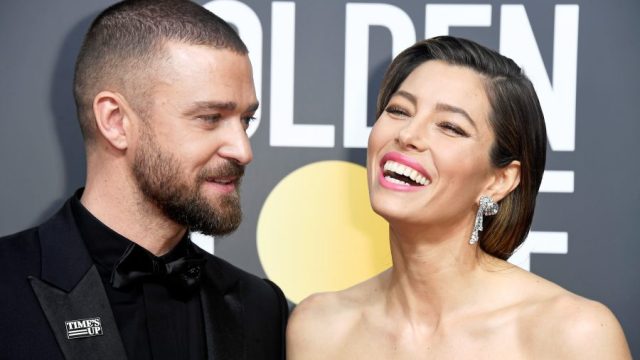 Jessica Biel and Justin Timberlake always knock their Halloween costumes out of the park, but this year might be their best yet. Instead of opting for their typical family costumes with their son Silas, over the weekend, Biel dressed up as her husband Timberlake—in all of his '90s boy band glory.
The couple attended the star-studded Casamigos tequila Halloween party on Friday night in Beverly Hills. And their costumes were the talk of the town.
Biel perfectly imitated her husband's style from 20+ years ago. She rocked a blue metallic jumpsuit, cross-chain necklace, narrow blue sunglasses, and white sneakers.
To top it off, Biel wore a strawberry blonde curly wig, giving us major '90s Justin flashbacks.
https://www.instagram.com/p/B4GJVIPhUZZ
Timberlake himself dressed as a giant microphone, the obvious accessory for NYSYC-era Justin (er, Jessica). Four of the couple's friends rounded out the NSYNC group costume by dressing as the remaining members.
If only the real NSYNC members had shown up—now that would have been truly iconic.
We wonder if this was a last-minute Halloween costume, as Biel just made headlines when an old, pre-Justin video resurfaced of her saying that she never listened to any NSYNC songs. (LOL.) She must have studied up on her boy band history because this looks like the Timberlake poster we had up on our middle school bedroom walls.
Biel and Timberlake just keep raising the bar for themselves. Honestly, we look forward to seeing what costume the couple will choose almost as much as we look forward to picking our own costume each year. Here's to hoping they have something even better planned for actual Halloween on this Thursday, October 31st.