Jessica Biel's green leather dress made her look like a gorgeous plastic army man and we are in love
Jessica Biel attended a screening of her new film The Book of Love yesterday at the New Orleans Film Festival, and she looked amazing! The gorgeous wife and mom-of-one turned heads in her fitted, green leather mini — definitely drawing some inspo from those little green army men we used to ~obsess~ over back in the day.
Mrs. Justin Timberlake sported a pair of really cute pumps, keeping her ensemble super simple and chic. And we just love the ruffle accent on the shoulder, and the single long sleeve! This dress is definitely not something you'd come across every day, but we appreciate its eclectic edge.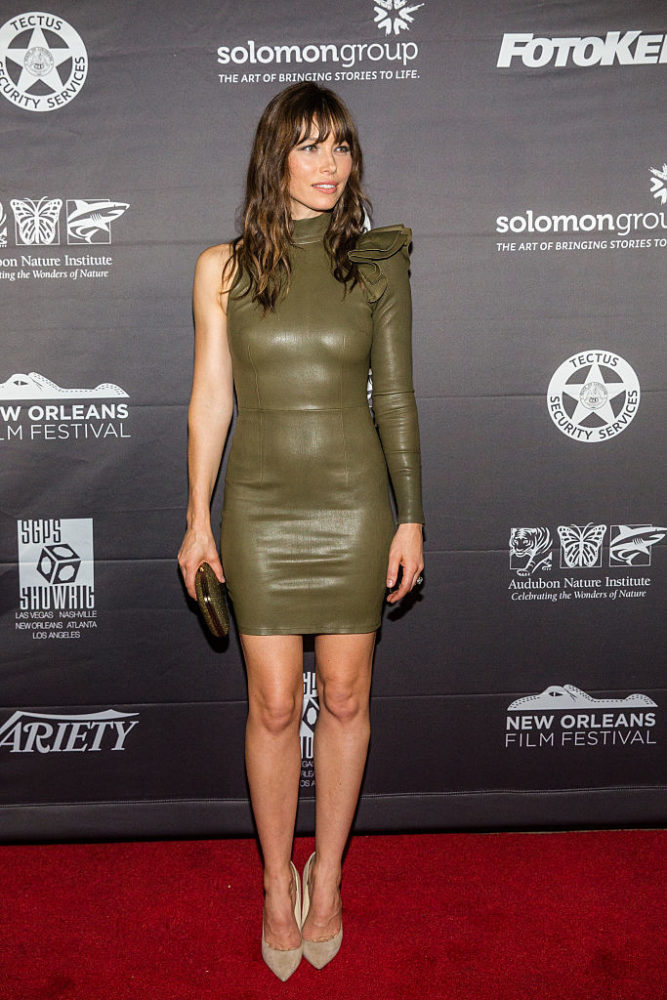 The Timberlakes are one sexy couple, and they stunned as they posed together on the red carpet! We can't get enough of their outfits' muted colors! The two totally complemented each other's looks.
The Book of Love is about a recently widowed architect (Jason Sudeikis) who befriends a homeless teen (Maisie Williams of Game of Thrones) after losing his pregnant wife (Jessica Biel) in a fatal car accident. The drama was filmed in the beautiful city of New Orleans and is set to hit theaters in early 2017.
While Jessica stars in the movie and also produced it, Justin Timberlake also had a major behind-the-scenes role — he wrote the music! During a recent Q&A at New Orleans Film Festival, Jessica said:
"Basically, it was, 'You're going to do this or there's going to be a problem — and you're not going to get paid. Love you, mean it. Honestly, I think it's something he was really excited to do. He loved the script. He's been living with this script for a long time. I don't remember when Bill [Purple, who directed the film] thought about it, but just one day he was like, 'I think this would be really cool. I wonder if he'd be interested.' And then I threatened his life."
We're super happy to see Jessica out and about, and are looking forward to her next red carpet slay!