We cannot believe what Jessica Biel just ate in the shower #OurHero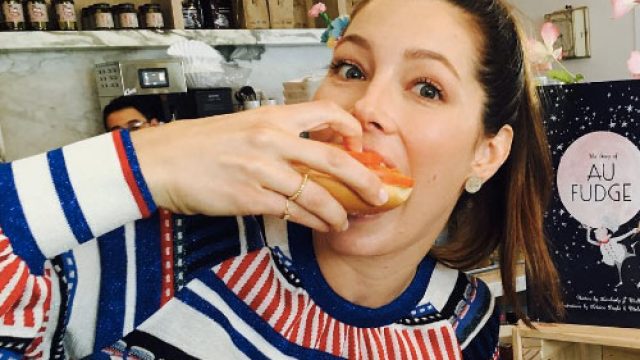 Jessica Biel is our new hero! The 34-year-old actress just revealed that she has one strange thing about her, but it's just making her way more human — and awesome — in our books.
On Friday, Biel posted a strange photo on her Instagram account of a shower. Yes, it was a photo of her shower with an empty plate and fork sitting inside it as the water poured down. While posting a pic of your shower is a little out of the ordinary, it's the food portion of the pic that has us questioning what the actress and restaurant owner does in her spare time… she eats in the shower, duh!
"Yes. I eat in the shower. I admit it," Biel wrote alongside the shower photo. But what does she eat you ask? It's not what you'd think.
"Chicken apple sausage and espresso. Try it. I dare you. #ShowerEats," she added.
https://www.instagram.com/p/BK_mKkJjYPP
If you look closely, you can see the espresso cup and we're loving it. Biel, who owns Au Fudge in Los Angeles, is all about food. Sure, eating in the shower seems a little odd, but because the former 7th Heaven star eats chicken apple sausage aka breakfast, it just makes her the epitome of a woman on the go and we are in awe of her.
In fact, this isn't the first time Biel has eaten her breakfast while getting clean and ready for the day. Last week, the mother of one also posted a shower shot, revealing this is all a part of her regular routine. Who would've guessed? Definitely not us!
https://www.instagram.com/p/BKuDrIADBFK
We are much more used to her foodie photos that have us dying to dine at her fabulous restaurant. While she clearly likes sausage, Biel ins't above delving into some tasty bagels at her LA restaurant.
Plus, she loves cake and who doesn't love a lady who is willing to smash a cake in her face every now and then? Ah, can we just be best friends with Jessica already?