Jessica Alba welcomed her third child on New Year's Eve, and we're obsessed with his name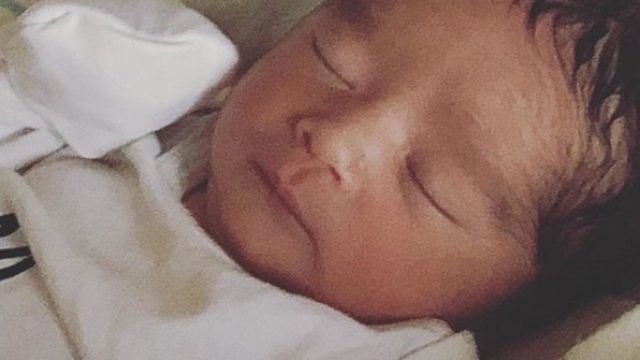 Baby makes five! New Year's Eve is all about welcoming new beginnings and celebrating moments shared with the ones we love the most. And according to the 'gram, Jessica Alba and husband Cash Warren had an extra dose of new beginnings and celebration this past December 31st. Alba and Warren welcomed their third child on New Year's Eve. It's a boy, and his name is almost as adorable as his little face.
The handsome duo wed in 2008 and already have two daughters together, Haven Garner, 6, and Honor Marie, 9. "It was always in the cards for them to have a third child," a source previously shared with E! News. "It was definitely part of the plan and they just wanted to wait a few years for the right time." And here we are. Keeping with the H names, the couple named their son Hayes Alba Warren.
Alba posted a photo of her sweet bundle of joy on Instagram with the perfect caption. "Hayes Alba Warren 12/31/17 Best gift to ring in the New Year!!" wrote the actress. "Cash and I feel so blessed. Haven and Honor are already obsessed with their new baby bro."
Welcome to the world, Hayes!
The 36-year-old Honest Company co-founder announced she was expecting her third child via Instagram back in July.
In an adorable and playful Boomerang, Alba cradled her growing baby bump and held a balloon with the number 3 alongside her daughters.
OhBabyNames links the name to characteristics such as: master builder, leader, confident, disciplined, organized. Although it's more commonly used as a surname, in 2017, the name increased in popularity as a first name for baby boys. We predict that will only go up in 2018, now that it's officially reached celebrity status.
We're sending so much love to the growing family. Congratulations, #familyoffive!