Jessica Alba gives Stephen Colbert a makeover, and the results are hipster chic
We love a good makeover, because, who doesn't?
The latest familiar face to receive a subtle-yet-striking makeover is Stephen Colbert (shout out to Vulture for finding this), and it was done by one of our fave gals, Jessica Alba!
It all started when Alba came onto The Late Show to talk about her company's new all natural, chemical-free makeup line (the Honest Company).
And Colbert couldn't help but grab a bottle of hair spray and begin using some (after spraying a bunch of salt-water hair spritz into his mouth, we might add).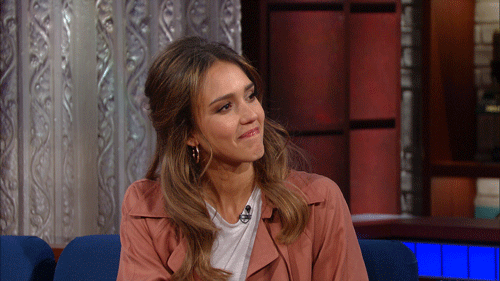 Luckily, Alba was there to help. In fact, she sprung into action almost immediately.
Using natural beauty products from The Honest Company, Alba gave the unsuspecting Colbert a brand new hairdo.
Granted he was a bit apprehensive at first, but he pushed through — and ended up looking kind of trendy. IN FACT, LIKE A TOTAL HIPSTER.
Are you ready for this stroke of genius? HERE WE GO. 
https://www.youtube.com/watch?v=j0fVkI7Wx3Y?feature=oembed
Truly priceless, guys.