Jesse Tyler Ferguson from "Modern Family" made a PSA in favor of red-headed emojis, and we're rooting for him
Are you a redhead? Then you'll truly love this. Famous redhead Jesse Tyler Ferguson from Modern Family made a PSA that aired on The Ellen DeGeneres Show the other day in favor of adding red-headed emojis to the iPhone. And why not? Really — emoji updates have been so great with diversity recently that they should definitely give our favorite redheads a little bit of love.
"You've added every skin color, a British palace guard, a lady holding carrots...but still no redhead?" Ferguson questions in the video. "It's not right to exclude a community that faces constant discrimination and unfair stereotypes."
He's got a good point — and then his video goes off the rails a bit. Watch below, and see what we mean.
https://www.youtube.com/watch?v=QwqXfSLSABw?feature=oembed
The actor, who plays Mitch on the ABC comedy, notes that he often has to battle a bunch of false rumors based on being a redhead. First, he needs to prove to the world that he's sexy (which — come on. Just look at him.)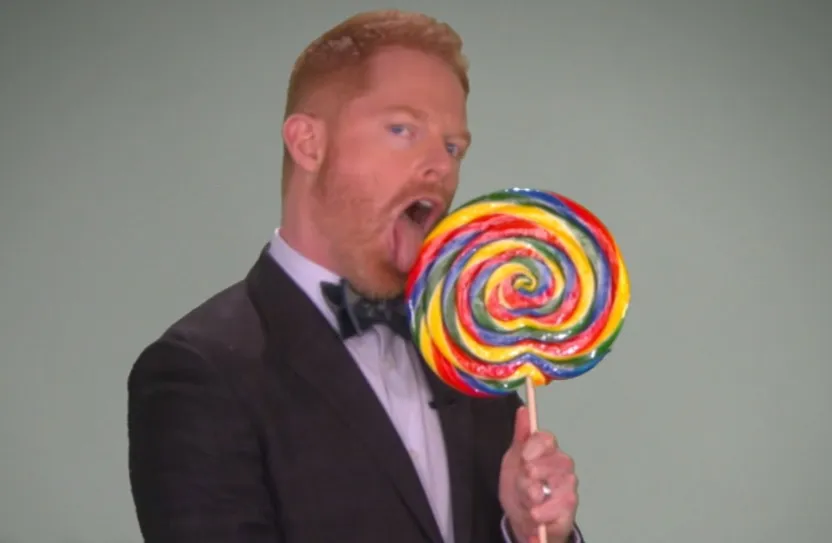 Then, he also mentions the terrible stereotypes, like in regards to — ahem — hair down there (or maybe he's legitimately just talking about his carpet, drapes, and home decor. We'll never know for sure.)
He even gets bullied on set, apparently.
"Gingers don't have souls, and I'm like, we do have souls, Eric Stonestreet!" Ferguson yells, referencing his on-screen husband.
From start to finish, this video is pretty funny. Plus, technically his message was heard by Ellen — the talk show host added a few new personalized emojis to her own app, including one of Ferguson himself.
But really, people — redheads should have their emojis by now throughout the main app. It's about time.