Jerrod Blandino shared a mysterious Too Faced product, and it proves all that glitters *is* gold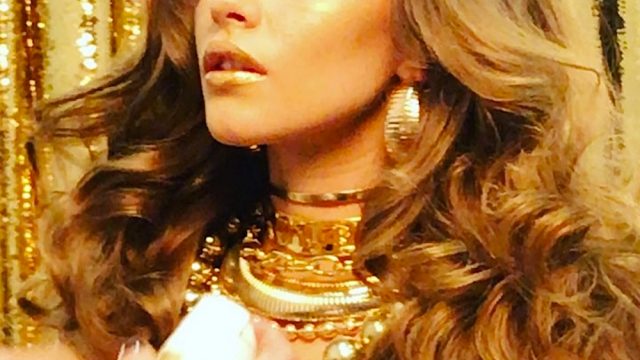 We'll admit that every last one of Jerrod Blandino's sneak peeks delight us to no end, but the gold Too Faced products he has been teasing the last couple of months has especially piqued our interest. The latest look at the impending molten creation gives us a bit more of a look at what might be headed our way, and if it is what we think it is, everyone's gonna be very excited, indeed.
Who doesn't love gold makeup? It's glamorous and sexy and absolutely decadent. We've got our fingers crossed for an entire line of gold products because if there's anyone who could create a truly spectacular gold makeup line, it's our friend Jerrod.
No word yet on what Too Faced's golden makeup line might entail, but from the looks of it, we have a strong suspicion we're looking at more than one product here.
There simply HAS to be a lipstick, eye product, and cheek product involved here. Could this mean an entire gold bar collection is headed our way? The formula looks as luscious and sumptuous as can be, so it wouldn't surprise us if a liquid shadow and cream highlighter were involved in some way.
Too Faced's fans are abuzz with anticipation over the new gold products, and theories as to what it could be are flying all over the place.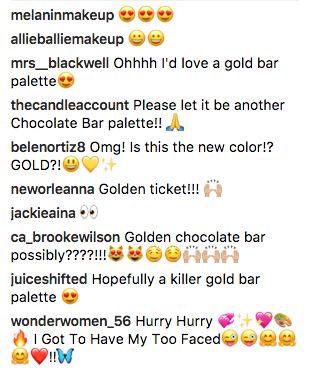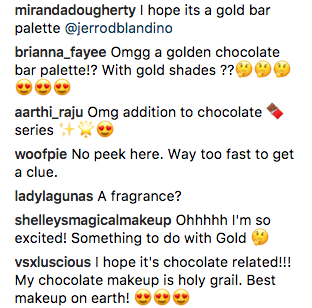 What do you think, do you agree? Our money is on some kind of Gold Bar collection, though the idea of it being a palette that includes a lip product would be insanely exciting and original.
Keep your eyes peeled on Jerrod and Too Faced's Instagram accounts because the clues will definitely keep coming. Hopefully, we'll get more information on exactly what this magical gold lava contains and when we can get our greedy lil gold makeup-lovin' hands on it.