Jerrod Blandino shared a sneak peek of his Too Faced Natural Love palette and we cannot BREATHE
With all the fuss and fanfare this week regarding the release of the Sweet Peach Collection over at Too Faced Cosmetics, it was easy to forget that there are still some really great new goodies headed our way! Ever our merciful leader, Jerrod Blandino gave us a look at the Too Faced Natural Love palette and it is absolutely stunning!
The limited-edition eyeshadow palette has 30 insanely beautiful shades that look like they just popped off the pages of our favorite fairy tale story book. It's a romantic, dreamy palette that is going to make us look and feel like the ethereal princesses we know we truly are!
https://www.instagram.com/p/BOBQpyQB_uy
And how perfect are those shade names? Heaven, Fairy Tale, Don't Settle, Moonbeam, Bunny Nose…they're all whimsical and delightful! Jerrod gave us a peek at the packaging a few weeks back, and now that we've gotten a look at the content of the palette it makes perfect sense! The aesthetic couldn't be more spot on!
Don't you just love that romantic, vintage look? Those rose vines and the bunny are to die for!
We haven't even had a second to recover from the release of Sweet Peach and we're already hyperventilating with anticipation over this beauty!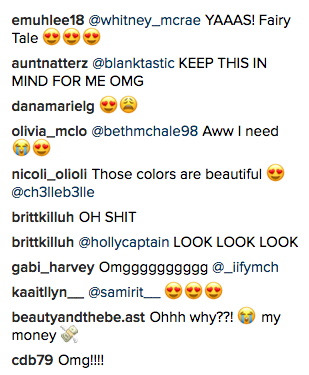 It feels like it's going to be an impossible wait for this one, all we can do is hope for a spring release — it'd look perfect with some florals!
Are you as overcome as we are by this sheer perfection? It looks like Blandino plucked the palette of our dreams straight from our minds and made it come true. Does he have some kind of secret portal that leads him to the hearts of every beauty junkie in the world? Is this magic or trickery? We will never know, and as long as he keeps delivering us magnificent products, we don't care!