Too Faced teased the most dazzling gold glitter makeup, and we are *so* curious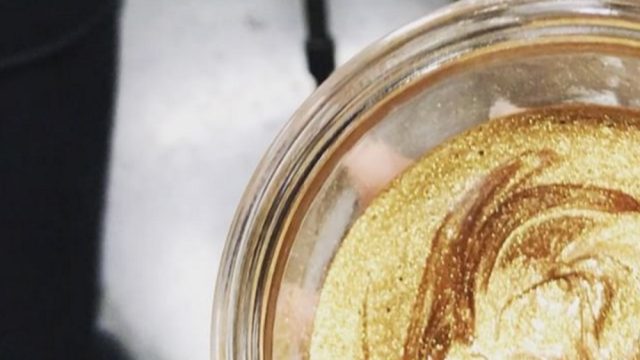 The sneak-peek treats and behind-the-scenes looks are never-ending when you're the mastermind behind one of the most successful beauty empires in the world. Jerrod Blandino of Too Faced just teased some dazzling gold glitter makeup, and we are dying to know what it could possibly be! Jerrod always knows just how much to show us without giving anything away, so it could really be just about anything.
What we do know is that it looks absolutely luscious. It appears to have a creamy consistency, though we can't be sure. This leaves it wide open for speculation, as it could really go any which way. We need to hear all your theories!
Could you even imagine how out-of-this-world luminous this would be if it were liquid lipstick or a lip topper? We're feeling lightheaded just thinking about it. Too Faced might even throw something out of left field our way like some metallic liquid eyeshadow or (gasp) even metallic liquid eyeliner.
The last time Jerrod gave us an exciting sneak peek, it turned out to be the thrilling extension to the Sweet Peach collection that's headed our way in August — and that turned out to be a huge deal!
We want to take a dive right in.
What could this delightful glitter creation possibly be? Our money is definitely on a liquid lipstick — it'd be right on trend, and Jerrod knows exactly what his consumers want. It'd be an ultra-glam addition to their liquid lipstick line that would change the game for Too Faced and beauty lovers everywhere. We can't wait to find out more.