Designer Jeremy Scott turned Gigi Hadid into an "illegal alien" for his latest campaign, and people are pissed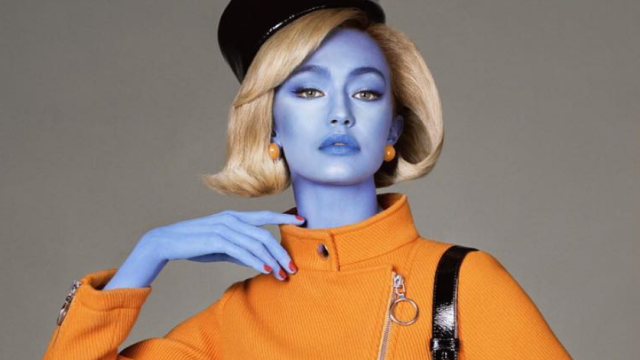 Designer Jeremy Scott teased a new campaign on Instagram today, June 25th, featuring model Gigi Hadid covered in "alien" blue paint, and his caption isn't sitting well with the internet. In the Instagram post, Scott, the creative director of Moschino, captioned the photo: "THE ONLY THING ILLEGAL ABOUT THIS ALIEN IS HOW GOOD SHE LOOKS !" And really, we can't stop cringing.
User reactions were mixed, but most pointed out how tone-deaf the caption seems considering the current immigration crisis.
Some responses included: "Delete that caption. Right now," "Ignorant caption," and "This is really tasteless regardless of your point." One comment read, "I don't know why you thought that caption was cute but reconsider forreal."
Scott responded to the backlash, writing:
"THE ENTIRE CONCEPT OF MY AD CAMPAIGN WAS TO BRING ATTENTION TO THE US ADMINISTRATION'S HARSH STANCE TOWARDS 'ILLEGAL ALIENS'. I PAINTED THE MODELS IN MY SHOW AND THIS CAMPAIGN AS A WAY TO BRING ATTENTION TO THIS AND DISCUSS WHAT EXACTLY IS AN 'ALIEN' ARE THEY ORANGE BLUE YELLOW GREEN ? NO THEY ARE OUR FRIENDS, NEIGHBORS, CO WORKERS, RELATIVES AND PEOPLE WE LOVE.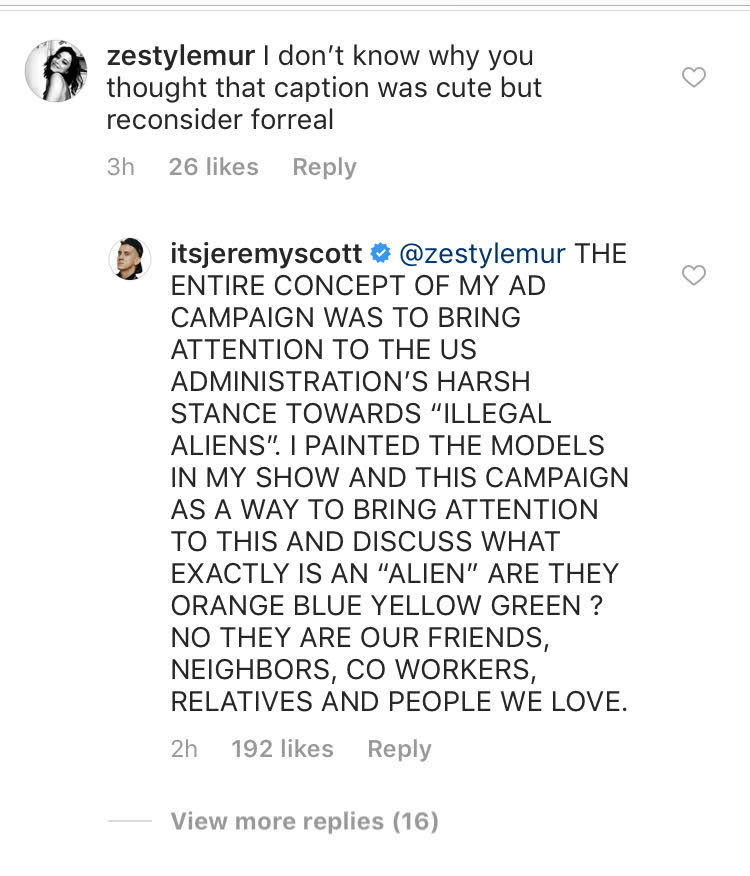 The campaign comes in the midst of an immigration crisis that has seen thousands of children separated from their parents at the U.S.-Mexico border; public outcry intensified after disturbing reports and images circulated of migrant children being held in cages in detention facilities.
Following intense public outcry, Trump signed an executive order on June 20th to keep migrant families together — in detention together, that is. And he has continued to push for a "zero-tolerance" immigration policy, so children who have already been separated from their families remain in limbo.
Regardless of his intentions, this caption comes off as thoughtless and insensitive. Perhaps next time Scott could consider asking the affected community how best to represent them? Just a thought.