"Supernatural's" Jensen Ackles just gave us a LOL-worthy look at his life with newborn twins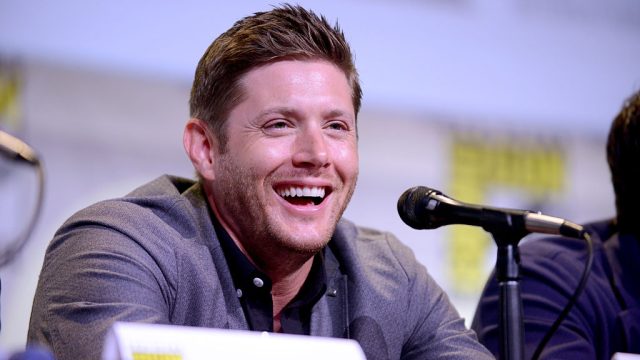 Taking care of a newborn baby is no joke. You're constantly feeding, changing, rocking, and playing with your teeny tiny human person. But when there are two of them? Well, that's double the work (and double the love!). To give us an idea of what this would look like, we have Supernatural's Jensen Ackles — who has twin babies, is killing it in the double duty dad department.
Ackles posted a photo to Instagram of himself sitting on the couch in between his adorable four-month-old twins, Arrow and Zeppelin. In the pic, he's feeding the babies their bottles simultaneously, because he's clearly a rock star dad. Since his hands are obviously full, he jokes about not being able to change the channel on the TV.
He wrote, "When the remote control is right between your legs and you can't change the channel. #twins"
The baby struggle is real.
Ackles' wife Danneel Harris posted the same photo with the caption, "Doin it ❤ ????#mancrushmonday"
Both Ackles and Harris have shared so many pics of the twins and their older sister, three-year-old JJ. And we love keeping tabs on the family's cuteness.
Like this adorable shot of JJ posing with her little siblings amidst a room full of baby gear. "Love!!! ❤❤❤#bigsister #somuchbabygearinhere," Harris captioned the pic.
She also posted this ridiculously cute pic of the twins just being twins earlier this week. Their eyebrow and hair game are strong.
"It's a twin thang!????❤ #twinlife #weekendvibes," she wrote.
The twins don't just get fed at the same time, they also get burped at the same time. Because their parents are masters.
"The art of the double burp. #twinlife #fridayfun ❤??????," Harris wrote.
We love virtually watching these little kiddos grow!