Jenny Slate has a new movie out this summer—but she'd rather talk about defunding the police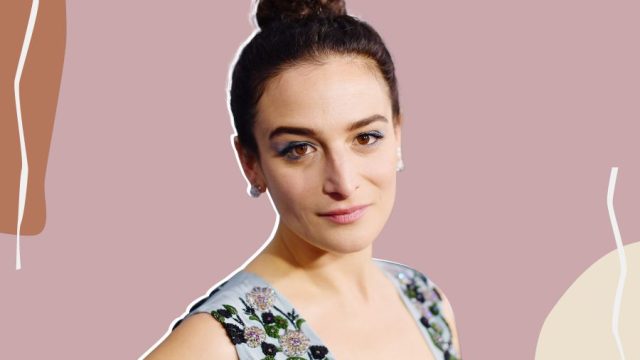 Jenny Slate wants you to know that she loved making The Sunlit Night, a coming-of-age story shot and set in Arctic Norway amidst 24/7 sunshine. The Sundance hit challenged her as an artist, let her work with her dear friends (writer Rebecca Dinerstein, actor Zach Galifianakis, and director David Wnendt), and is a film buoyed by possibility, set to premiere in theaters on July 17. But the thing is, the movie is just not Slate's priority right now, not when compared to issues like systematic racism and police brutality.
Don't get her wrong; the star's disinterest is "not a comment on the movie," she explains, speaking to HelloGiggles over the phone in early June. It is a comment on how Black Americans are killed by police at two times the rate of white people, and on how it took multiple murders and a still-very-much-here global pandemic for many privileged Americans to start paying attention.
So while Slate knows it's her job to talk about the movie, she'd rather talk about George Floyd, Breonna Taylor, Tony McDade, and the countless other victims of police violence—not to mention what we're going to do about the racism embedded in ourselves and in our country. Because looking away from a problem, Slate explains, is a way to keep it in stasis. "Discussing it—no matter how hard it is—is a way to pick your feet up and move toward the light," she says.
Prior to the pandemic, Slate was already no stranger to political activism and fighting for women's rights. But now, she's intent on furthering her commitment to doing what's right. "It's really hard to live in patriarchy, and that patriarchy depends on the breaking of the spirit and the perpetuation of racism," the 38-year-old says. "I've been trying to root that out in myself, and it's just a continual process."
Case in point: When she realized this interview was set for the day of Floyd's funeral, she rescheduled. "It felt inappropriate," Slate explains, to not devote the day to being quiet and doing anti-racism work. Inspired by a friend, she spent those hours making a list of three things she could do right away to deconstruct racism both at large and within herself. It's been a painful (and for her, private) undertaking, she says, "because it always feels bad to see where you have failed or where you have blind spots." 
https://www.instagram.com/p/CBJOxDTFsT6
Recently, she's been posting on social media and talking to friends and family about defunding the police. She's trying to be thoughtful of the misunderstandings and the big, fearful reactions around the idea, but what she doesn't get is how someone could have such a strong reaction to it yet decline to learn more. "Because to me, the issue is really simple," Slate says. "It's just like, take the money away from a system that is historically and aggressively brutally racist and put it into the Black communities."
Like many others, the actor is frustrated by America's lack of empathy for its Black communities—the refusal by white people to both share Black people's pain and acknowledge their role in creating it. "Whoever you are, if your father were to be murdered because of the color of his skin, your heart and your spirit would be dragged into darkness," Slate says. "And that has been the experience of so many people for hundreds of years, and that is the world."
That's the reality she'd like to focus on today. Because, she notes, "it's just really not about me right now! It's just not."
But, she adds, "I guess I still have to do my job." And that job is to talk about The Sunlit Night, which follows Frances (Slate), an aspiring painter from New York who takes an assignment to paint a big yellow barn with a grizzly recluse in the Arctic Circle because she feels she has nowhere else to go. The movie is partially a love story, complete with a viking reenactors' village hosting a meet-cute, but it's also a coming-of-age tale. Before we see Francis succeed, we see her screw up big—and not in the unrealistic way that Hollywood usually depicts mistake-making women. 
"What's not attractive to me is a woman who's just an adorable failure," Slate explains. "I've joked about it before that it's like, 'She's messy! Oh no, she gets her ketchup on her shirt!' Like that's an acceptable level of woman who's 'making mistakes,' and that's not what I want."
For the film, Slate wanted to show an honest portrayal of a woman in process—"a process that you might not recognize, or a woman in a place where she's uncomfortable, but she's still being herself."
"Those seem like small things," the star adds, "but they're actually pretty important in a world where we're not really encouraged to show those things."
Frances doesn't quite know where she's going in life, and the last line of The Sunlit Night—"Can you keep this up?"— echoes that idea. "It's not like, 'Congrats! Let's just get your shit right into the Guggenheim, girl! You did it!' It's not like, 'congratulations, you're perfect,'" Slate explains. "Because that is not a reality at all and it is not very interesting to me."
What is interesting is the possibility of where Frances might go next. "I guess that is what I always seem to care about," Slate says. "Are we able to make choices for ourselves?" 
In the end, it all goes back to the idea of freedom—freedom to explore all the different paths ahead, freedom to choose what you want to do without interference by oppressive systems, and freedom to exist without fear of harm for doing just that, existing. 
And that's what Slate thinks we should all be talking about.