Jenny Slate tells the story of how she met her dog and it's unbearably cute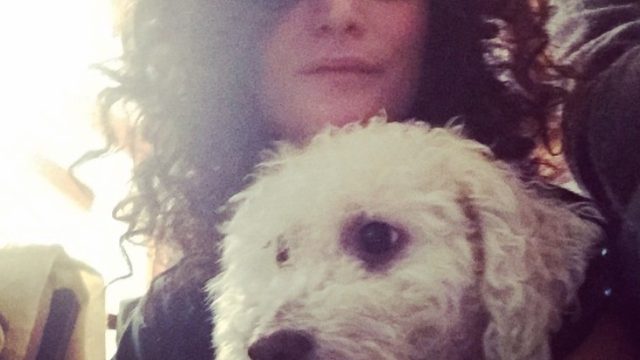 Jenny Slate is one of those people that bizarre things just naturally happen to. Fortunately for us she's a master storyteller, and she loves to share all of her weird experiences in great detail. Her latest retelling did not disappoint.
Slate was recently a guest on The Late Show with Stephen Colbert promoting her upcoming movie The Secret Life of Pets. She voices a Pomeranian named Gidget, and Colbert took the opportunity to ask about her own dog, Reggie. The simple question of where she got Reggie turned into an almost seven-minute story, and we wouldn't have it any other way.
Just look at that face—who wouldn't want to take him home?!
Slate recounts a particularly bad day she had—one that was so bad, she just had to go look at some dogs to make it better.
"I went to a pet store to cheer myself up and look at the puppies. There was this one dog up in the corner," she tells Colbert. "I was like, 'What's up with that dog?' And they were like, 'Oh, he's just not a puppy, and nobody really wants him, and we don't know what to do with him.' I took it so personally."
So of course, Slate scooped him right up. And that's the short version of how she met Reggie! But do yourself a favor and listen to her tell the full thing. Just trust us on this one. https://www.youtube.com/watch?v=