Actress Jenny Mollen Is Dedicated to "Getting Sugar Out Of Kids' Bodies"
The actress, cookbook author, and mom shares why she's made it her mission to help kids eat healthier.
The product recommendations in this post are recommendations by the writer and/or expert(s) interviewed and do not contain affiliate links. Meaning: If you use these links to buy something, we will not earn a commission.
"I'm really dedicated to getting sugar out of kids' bodies." That's the main point actress Jenny Mollen wanted to get across while recently speaking with HelloGiggles from her Manhattan home.
It's a different and more serious side of the 43-year-old, who's known for her hilarious social media posts (the Huffington Post has referred to her as one of the funniest women on Twitter), comedic bestselling books, and roles in shows like Angel and Girls.
Mom to Sid, 8, and Lazlo, 5, with husband Jason Biggs, Mollen didn't simply just adopt this cause after having kids. It's in her blood. Mollen's dad, Art, has authored several bestselling diet and nutrition books, and the family has a foundation that builds scratch kitchens in inner-city schools.
"When it comes to food in public schools, there's a major lack of funding going to healthy eating and lunches for children," she shares. "We'll spend so much on our kids' minds, but don't give a crap what goes into their bodies," she laments.
Mollen — who's a spokesperson for Egglife — recently released a cookbook called Dictator Lunches, with clever ways to get kids to eat healthier, including, you guessed it, Egglife egg white wraps, as a swap for bread.
"If you're invested in their [your kids'] futures, you have to first and foremost invest in their health," Mollen tells us. "I get it, it's easier for parents to just give in to whatever their kids want, it's one less battle. I'm not that parent at pickup and drop off, I work full-time, but I put in a little bit of effort when it comes to their health and that starts with eating," she explains. "This is a battle worth picking."
RELATED: 10 Reasons Why You're Dreaming About Your Ex
But that can seem overwhelming for an already overwhelmed parent. "You can just start by cutting out grains in their diet. People don't realize that grains are a huge source of sugar and they really won't even miss it. Then, just allow them one time per day that they can have a sweet treat," she suggests. Limiting snacks throughout the day will also lead to less of a fight at the dinner table, she adds.
Mollen shares these recipes that she says will satisfy your carb cravings and will be your kids' new favorite not-so-guilty pleasures. (And possibly yours, too!)
Sweet Almond Wraps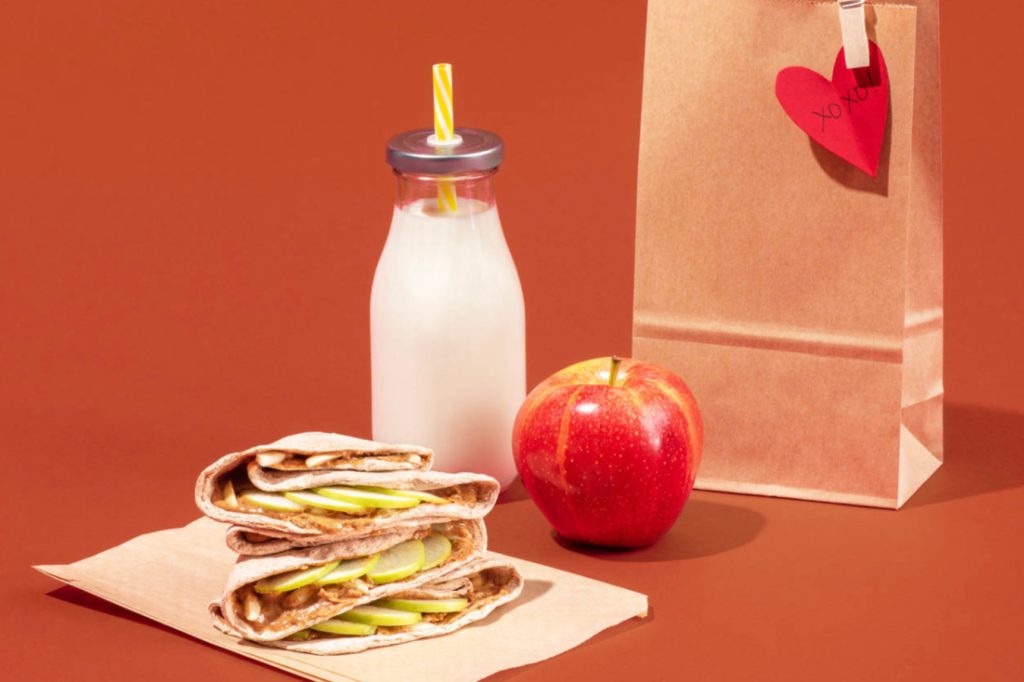 1 sweet cinnamon egglife® wrap
2 tbsp almond butter
¼ cup granny smith apple slices
1 tbsp slivered almonds
sprinkle of cinnamon
Directions
1. Spread almond butter on sweet cinnamon egglife® wrap.
2. Add sliced apples, slivered almonds, and cinnamon.
3. Fold wrap over top to enclose the filling, then fold over again to form a triangle shape.
Grain-free schnitzel
1/2 teaspoon sweet paprika 1/4 cup sesame seeds
2 teaspoons ground turmeric 1 1/2 teaspoons kosher salt Freshly ground black pepper
2 tablespoons avocado oil, plus more if needed
Directions
1.Place the chicken cutlets between two pieces of plastic wrap, then gently pound with a rolling pin to flatten to about 1/8 inch thick.
2. Beat the eggs in a medium shallow dish. In a medium bowl, mix together the flour, paprika, sesame seeds, turmeric, salt, and some pepper. Transfer the flour mixture to a medium shallow dish.
3. In a large skillet, heat the avocado oil over medium-high heat.
4. Dip each cutlet into the eggs, then the flour mixture, then repeat. Gently shake off any excess flour.
5. Working in batches if needed to prevent crowding, add the cutlets to the hot oil in the skillet.
6. Cook on one side for about 3 minutes, until the bottom is golden brown. Flip each cutlet and cook on the other side for about 3 minutes, until golden brown.
7. Transfer to a paper towel-lined plate while you cook the rest of the cutlets. (Add additional oil between batches, if needed.) Sprinkle with sea salt.
Jené Luciani Sena is an accredited journalist and internationally-renowned bestselling author, regularly seen on national TV outlets such as Access Daily, Today and Dr Oz. Touted as one of Woman's World Magazine's "Ultimate Experts," she's a TEDTalk speaker and a busy Mom of 4.
Read more