Jenny Lewis's indie pop supergroup just dropped a surprise album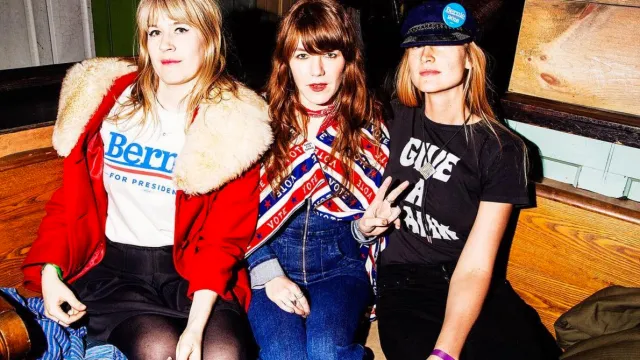 Have you been craving some new Jenny Lewis tunes lately? Then you're in for a treat: The forever #lifegoals musician teamed up with two indie pop all-stars for the new band Nice As Fuck (what an amazing name), and they surprise-released an album on Friday.
Nice As Fuck (or rather, NAF) is Lewis, Erika Forster from Au Revoir Simone, and Tennessee Thomas from The Like. (Thomas previously had appeared in Lewis's video for the hilarious/too relatable "Just One Of The Guys.") The band first came together at a Bernie Sanders fundraiser, but instead of letting the group be a one-off thing, the women decided to make Nice As Fuck totally legit — in fact, they'd been touring for weeks in advance of the album.
As of late, it seems like musical supergroups are having a moment. Members of Arcade Fire, The Strokes, and Bon Iver came together as Pop All Star Band; Rage Against the Machine, Public Enemy, and Cypress Hill became Prophets of Rage. But most of these musical re-arrangements are from all-male bands, into all-male bands, so it's refreshing to see Nice As Fuck (their mantra: "Give a damn") come and stay together. (Also, let's be real, we'd probably follow Jenny Lewis's voice into the void.)
The album's nine tracks come off as low stakes, but poignant vignettes, rendered into feeling by the band's intimate sound. While single "Door" is the obvious highlight, the closing "NAF Theme" is a perfect, slightly bratty girl chant: "We're nice! As fuck!" It's a reminder that sometimes, being good is its own kind of aggression, a way to fight back against a world that often demands meanness as social currency. To which we say, fuck yeah.
Listen to Nice As Fuck below: