To All the Boys author Jenny Han breaks down Lara Jean and Peter's talk about sex
This story contains spoilers from To All the Boys I've Loved Before: P.S. I Still Love You.
The 2018 romantic comedy To All the Boys I've Loved Before is pretty much PG through and through. The Netflix film is full of sweet kisses and an iconic hand-in-jeans-back-pocket moment that was so cute, it went viral. Only at the end of the movie did a steamy hot tub encounter push the movie's content slightly past PG. While the sequel, To All the Boys: P.S. I Still Love You, maintains that lovable innocence, fans might be surprised to learn that sex becomes a larger topic of conversation this time around.
At the end of the first film, teens Lara Jean Covey and Peter Kavinsky decide to actually date after faking a relationship for months. The second movie, which is out on Netflix now, picks up right where the characters left off, with their budding romance beginning for real. While this marks LJ's first relationship, Peter has previous romantic experience with his ex-girlfriend, Gen. For much of the second film, Lara Jean feels like an inadequate girlfriend, partly because of her lack of sexual experience. This worry comes to a head about halfway through To All the Boys: P.S. I Still Love You, when Lara Jean opens up to Peter about her fear while they're making out in his car.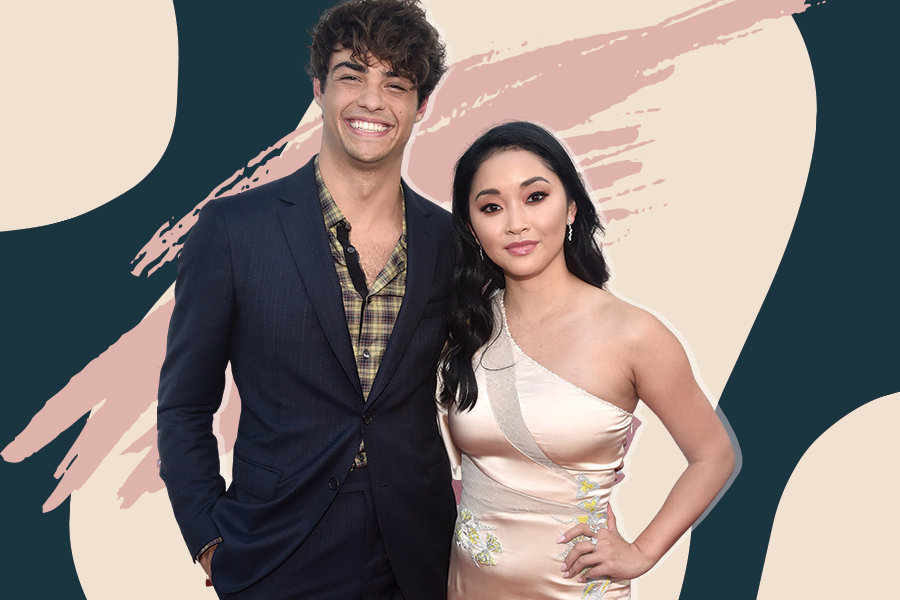 When Peter starts unbuttoning Lara Jean's shirt, she breaks away from their kiss and says, "I don't want to have sex with you right now." Peter is surprised and replies, "That's alright, I wasn't trying to have sex with you right now." Although Lara Jean is a mostly introverted character, she holds her ground on what she believes in, and tells Peter that she just needed to say that desire aloud.
"Lara Jean is in her own head a lot, but she has a quiet confidence, and she doesn't do things that she doesn't want to do," To All the Boys author Jenny Hantells HelloGiggles, breaking down that scene. "She's not going to be swayed to do something that she isn't ready for."
Lara Jean and Peter proceed to have a conversation about sex, although LJ uses a metaphor of "going BASE jumping" in place of actually saying "having sex." She tells Peter that while she knows that he's had sex with Gen, she's a virgin. Lara Jean says that if she decides she wants to have sex in the future, she would need to ask Peter questions about it.
"I think that there's not a right or wrong time for [sex], and Lara Jean is a character that's a bit slower to bloom," Han says. "She does things in her own time, and that's important."
During their conversation, Peter and Lara Jean ditch the metaphor and ask each other point-blank questions: ""Does it feel like I'm rushing you?" (Peter) and "Do you miss sex?" (Lara Jean).
Some moments are awkward and some are sweet, making it it feel like an authentic conversation about sex between two teenagers. The biggest takeaway is that they're having a conversation about it, period.
"The fact that they're in communication with each other, and saying what they do or don't want to do is the important part," Han says. "The conversation around consent is really important, and having it be a continual conversation is essential. You should keep checking in with each other."
Throughout Peter and Lara Jean's growing relationship in To All the Boys: P.S. I Still Love You, they struggle with genuine teenage issues— jealousy, insecurities, opposing hobbies, and clashing social circles—which is refreshing to see onscreen. Another storyline that feels surprisingly real is the character of Gen (aka the villain of the first film) struggling with her parents separating. Although Gen is a sore subject for Peter and Lara Jean, and fans might hold onto their dislike for her from the first film, we gain a better understanding of her in the sequel.
"I like to write characters that feel real and flawed, and have their own inner lives," Han explains. "I've always been interested in Gen's inner life and what she's going through."
Although the time for their romantic relationship has passed, Gen and Peter remain a part of each other's lives during To All the Boys: P.S. I Still Love You. Both characters are dealing with their parents splitting up—another real struggle that many teenagers face. Han explains why Gen and Peter still value their relationship, even though they're no longer dating.
"Someone who's really important to you for a time might walk out of your life and not serve that same role anymore, but it's important to honor those relationships as they were in that moment," Han says. "Peter and Gen had a long relationship with a lot of history to it. They were really important to each other at one point, so I think it's necessary to acknowledge that."
So many themes in the To All the Boys series—divorce, young love, break-ups, and sexual learnings—ring true offscreen. That's the magic of these films: They deal with real-life trials and triumphs, all through the lovely lens of Lara Jean Covey. After two films living in Lara Jean's world, we're already anxious to be invited into her world for a third time. Good news: The third film, To All the Boys: Always and Forever, Lara Jean has already been filmed, and although a release date hasn't been confirmed, our fingers are crossed that it's soon.