Jennifer Nettles wants equal play for every woman in music—here's how she plans on making it happen
"Play our f*@#in records, please and thank you." This is the message Jennifer Nettles sent as she stepped onto the Country Music Awards red carpet last month. A white pantsuit, a pink train, and a powerful statement made the awards a secondary conversation that night—Nettles was the main event.
The Sugarland singer and Harriet actress's ensemble wasn't simply a show-stopping red carpet look, it was a strong call to action. Along with the polite swearing on the front, the back of Nettles' train included a sketch of a woman's face, the equality sign, and the words "equal play."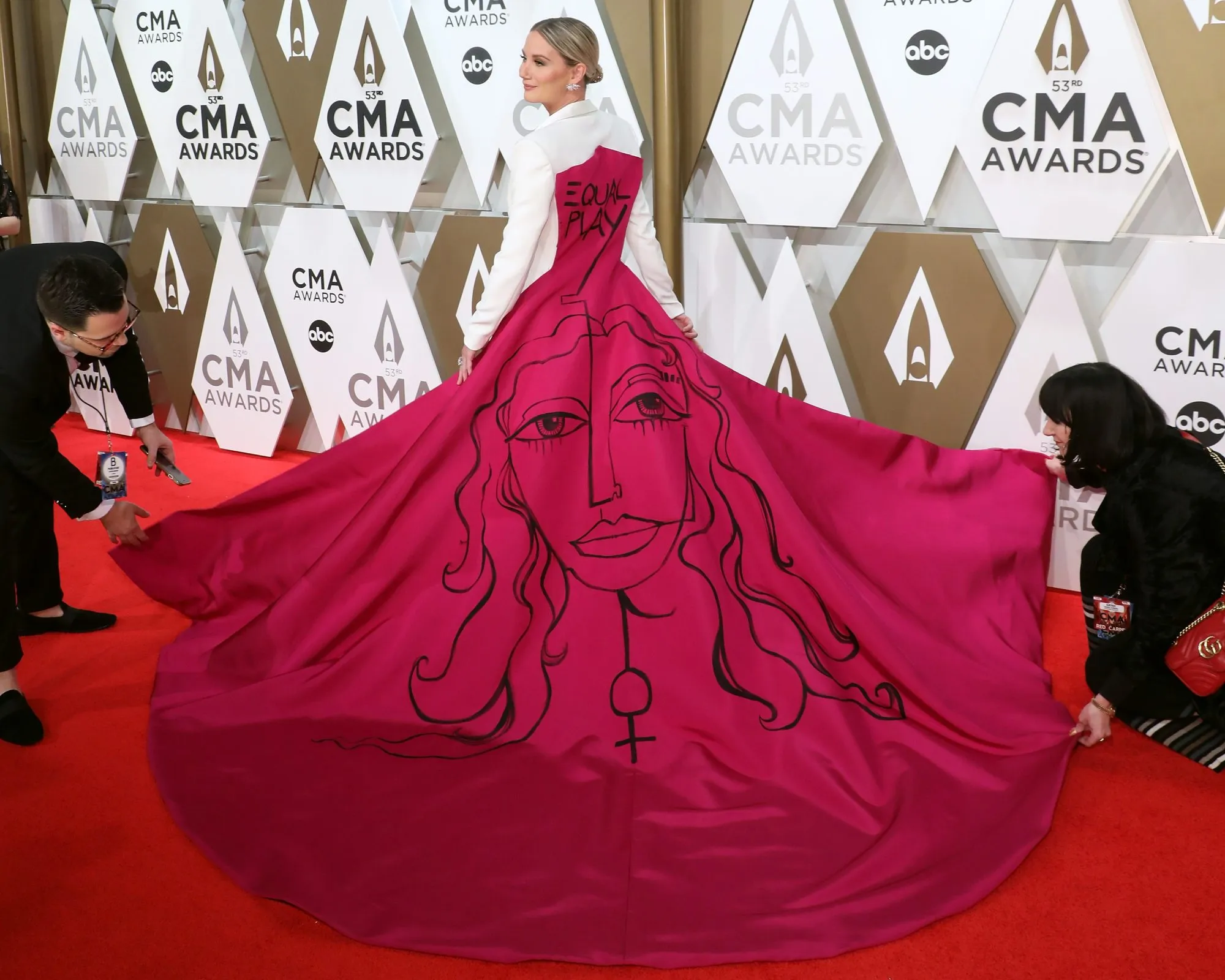 When we talk to the 45-year-old about her decision to make waves that night and beyond, Nettles says she was struck by inspiration for the look as soon as she heard that the 2019 CMAs were touted as the year of "celebrating women." The artist wanted to ensure that the event wasn't just a one-off night that ultimately wouldn't change anything in the industry—she hoped to spark further conversation.
To bring her vision to life, Nettles gathered a team of designers who she knew would rally behind the idea—NYC street artist Alice Mizrachi and Christian Soriano, whom Nettles calls "an advocate, an ally, and an activist for equality across the board."
"I thought, what a fantastic opportunity to make sure that we can take this conversation beyond the applause tonight, she tells HelloGiggles. "[Let's not let this] be some sort of ritual celebration of a night that checks some box, and then we move on, and nothing changes.
That mission was accomplished from the moment Nettles lifted her train on the carpet.
"I could even tell from just stepping onto the carpet, there was sort of a collective gasp and giggle, she says.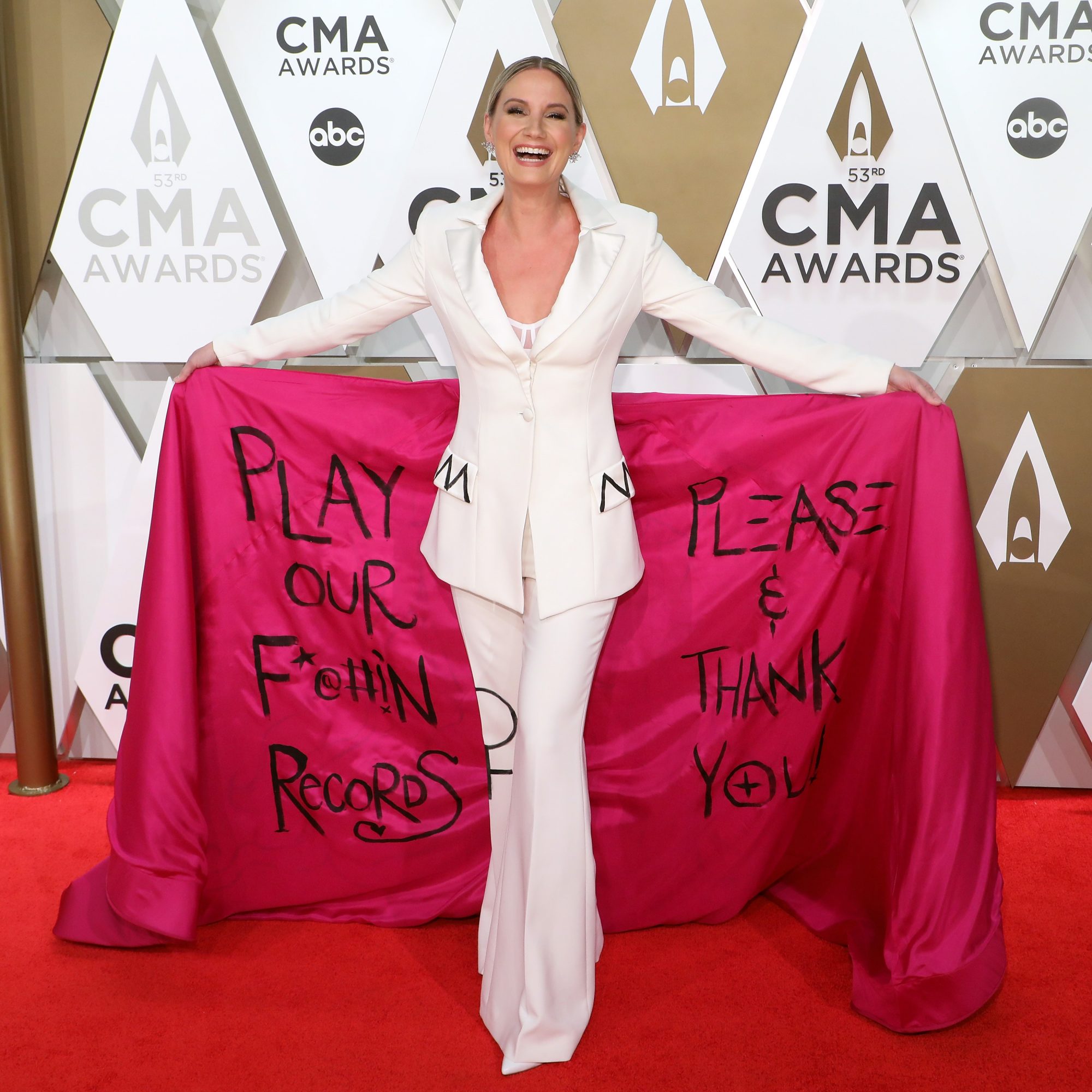 Nettles' bold ensemble clearly caught the attention of everyone at the awards that night, but it also struck a chord with Secret Deodorant. Immediately following the CMAs, Secret reached out to Nettles proposing that they join forces in a campaign that aligns with Nettles' message—advocating for women in music.
In a perfect storm, Nettles and Secret are now partnering with the non-profit Women In Music, which offers women access to the networking and mentorship they need to break into the music industry. The campaign will help 250 aspiring female artists and producers get their break. Good news: All women can enter to win through mid-December on Instagram.
Even more, Secret has committed to featuring 100% women-made music in all future campaigns, "putting their money where their mouth is," as Nettles calls it.
"Every commercial you see and every bit of music Secret puts out there will be women-made and women-composed, she tells HelloGiggles.
It's tangible actions like these that will start to shift the tide in the music industry, and in every industry where gender disparity is an issue. Although Nettles says her red carpet look "definitely did what I hoped it would" by sparking more conversation around the topic, she knows the fight for gender equality is just getting started.
"I definitely hope that we see more and more women winning [awards] because that will continue to further the success for all women," she tells HelloGiggles. "I hope that as women have the opportunity to make their own statement on the carpet, or hopefully, in their acceptance speeches, that they will make a point to at least give a nod to what is going on in the industry and to how it needs to change.
As far as how we can have a hand in this battle, Nettles has some sound advice.
"Raise your voice, make your voice be known, and work with other women," she tells HelloGiggles. "We have to work together. When you find men who are allies to you and see your value, work to make sure that you are fairly compensated for it, and that they too raise their voices to support women.
Jennifer's voice is definitely being made known, and it's inspiring us to make ours known, too.