Jennifer Lopez and Shakira are sharing behind-the-scenes looks at their Super Bowl halftime show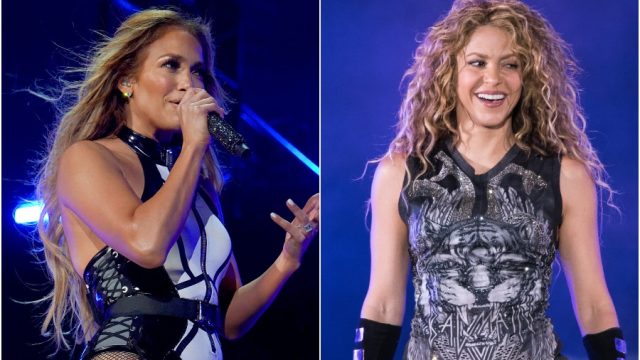 Update, January 29th, 12:46 p.m. ET: This story has been updated to include additional behind-the-scenes posts from Jennifer Lopez and Shakira.
Yeah, yeah, yeah. The Super Bowl is about football, sure. But as soon as Jennifer Lopez and Shakira announced they were performing, for us, it became all about that halftime show. Since then, both stars have given us behind-the-scenes looks at how the show is coming along. Needless to say, we're amped.
With only days to go before the big day, Shakira and J.Lo have entered into crunch time. Hips are shaking (and hopefully not lying), sweat is pouring, and Shakira is jumping as high as she can.
"10 days / días… #SBLIV #PepsiHalftime #Rehearsals" Shakira captioned a January 23rd Instagram post.
If Shakira's putting this much passion into rehearsals, we can only imagine that the actual halftime show is going to be insane (in a good way).
"Stepping up our preparations!" Shakira captioned a followup post. We'll just say, it's a good thing Shakira is performing rather than playing. (Hey, at least she's trying.)
Then, on Saturday, Shakira got excited about heading to the Super Bowl site, Miami's Hard Rock Stadium, for the first time.
And she showed off her impressive hair dancing.
Turns out her aggressive preparatory workout included cleaning floors. Two birds, one stone?
Lopez starting updating fans and Instagram followers on January 20th—two weeks out from the Super Bowl. She has her own bedazzled Super Bowl "02.02.20" bottle, and yeah, we're jealous AF.
"Happy Sunday! ✌?week countdown until the Super Bowl = time for a new bling cup," she captioned the post.
And, um, we're now even more jealous because she has more than one monogrammed bling cup. This spread is like the J.Lo starter pack.
https://www.instagram.com/p/B72DDgRpMsl
As Lopez says, no one messes with her Bling Cup. (Um, is her caption hinting that there's more J.Lo at the Super Bowl than the halftime show? A commercial perhaps?)
She has also been frequently using the hashtag #JLoSuperBowlChallenge, which is a challenge she's hosting via Tik Tok. Not only is J.Lo giving fans a sneak peek at her halftime show performance, but she's also challenging them to join in.
But if you're practicing just as hard as J.Lo is, make sure to take a snuggle break every once in a while.
Her daughter Emme, called here by her nickname, "Lulu," also stopped by to give Mom a boost during her long rehearsals.
But long rehearsals don't mean she doesn't have time for a little fun. Can we get J.Lo on the drums?
Shakira and J.Lo still aren't giving too much away, though. We still don't know which songs each performer will sing, or which musical guest stars will appear. Can we make a petition for Super Bowl halftime show alum Beyoncé to help perform "Beautiful Liar," perhaps?
While J.Lo waits for her cue, we'll be waiting for more behind-the-scenes footage.
Super Bowl LIV will take place on February 2nd at 6:30 p.m. ET. Go, team, but also go, Shakira and J.Lo—we're rooting for you!
Originally published January 26th, 2020