Jennifer Lopez's Moving Acceptance Speech Focused on How 2020 Personally Impacted Her
"It's my family, my friends, my babies, and my fans...who have lifted me up."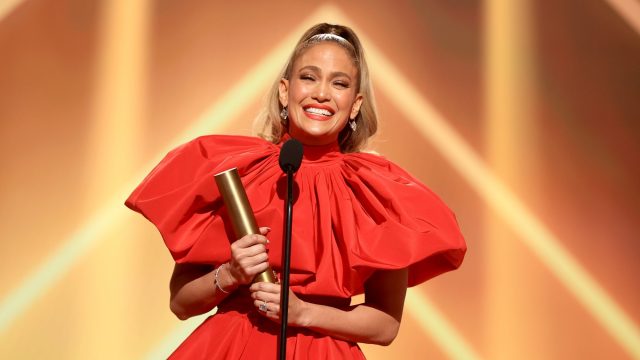 It's no secret that Jennifer Lopez is an icon—and has been for decades—but that title was just proven last night when she took home the trophy for the 2020 People's Choice Awards Icon. At the socially-distanced event, J.Lo glowed in a vibrant red minidress and retro ponytail à la Ariana Grande. But her killer look wasn't our biggest takeaway from the star's appearance at the awards show—it was her moving speech, which focused on how 2020 has impacted her personally.
As Lopez waited to accept the People's Choice Icon Award, she was surprised by thoughtful messages from both Renée Zellweger and Nicole Kidman. The actresses appeared onscreen separately to tell J.Lo how she has inspired them over the years with her career in entertainment. Lopez was clearly moved, laughing and tearing up while listening to them. But then, the icon herself had some moving words of her own.
"Oh, my God 2020 man, 2020 was no joke, right?" Lopez started. "I mean, before 2020 we were obsessing about winning this award, getting nominated for that award, we were caught up on who sold the most records or who had the biggest box office opening or crazy stuff. But not this year."
This year was the great leveler, she continued. It showed us what mattered, what didn't, and for me, reinforced what matters most: people. All of us, together.
Lopez continued to explain how important people have been to her this year. "Helping each other, loving each other, being kind to each other, and the importance of that connection, that human touch," she said. "I realize it's what I strive for in everything I do: to reach people, to touch people. I believe that's what we all want. Those shared experiences, to know that we're not in this alone."
The star then thanked all of the people in her life for helping her along the way during this tough year. "Your belief and your faith in me motivates me to keep going," Lopez revealed. "Sometimes, when I'm tired or beaten down, like a lot of us have been this year, it's my family, my friends, my babies, and my fans—you guys—who have lifted me up when I couldn't lift myself."
Now, where do we find a dupe of that bomb dress? We need to wear it while we watch the next virtual awards show from home.