Jennifer Lopez just became the first Latin artist to win this MTV Video Music Award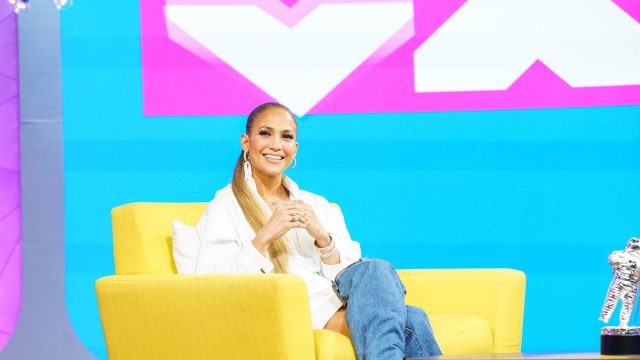 Every year, MTV chooses an artist to receive the Michael Jackson Video Vanguard Award at the MTV Video Music Awards, and this time the network has chosen someone who seriously deserves it after all of her contributions to music over the last 20 years. Jennifer Lopez is the 2018 Video Vanguard Award winner, and even better—she's the first Latin artist to ever win this award.
The Michael Jackson Video Vanguard Award has been around since 1984, and it's similar to a lifetime achievement award recognizing an artist's accomplishments in music. In recent years, stars like Rihanna, Kanye West, and Pink have been given the award.
Lopez sat down with MTV's Sway Calloway this week to discuss her win, and her reaction was the sweetest ever. In fact, she even started crying when she saw her fans in the audience, cheering her on.
"The whole thing is so overwhelming," she said when Calloway asked her how she felt about being the first Latin recipient. "That's always an amazing thing, because you want everybody to know that they have a fair shot at anything in this life. If I could be the first to do anything, it's not about me. It's about everybody else."
https://www.youtube.com/watch?v=hhwEr31qwnk?feature=oembed
It's hard to imagine anyone more deserving of this award right now, especially knowing what it will mean to those watching her receive it. Like Lopez said in the interview, everyone should feel like anything is within their reach, regardless of race, and with artists like Lopez breaking down these walls that's becoming more and more a reality.
Here's another big bonus: Each year, the Video Vanguard winner usually puts on an massive performance that features all of their hit singles, so we're looking forward to seeing what Lopez cooks up for us. She hasn't performed at the VMAs since 2001 (that's when Britney Spears and Justin Timberlake wore their matching denim outfits). The 2018 MTV VMAs air on August 20th—see you then.