Jennifer Lopez released an empowering new music video featuring her daughter Emme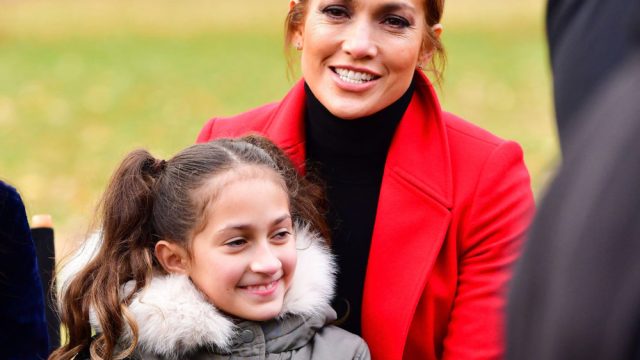 Jennifer Lopez just made her directorial debut with a new music video for "Limitless," a song from her upcoming rom-com Second Act. In the video dropped on Thursday, December 20th, Lopez croons to the lyrics as 10-year-old daughter Emme Muñiz plays her younger self. Set against the backdrop of a futuristic setting, Lopez and Muñiz are seen struggling to reach atop a hill as they battle the elements.
Watch the music video for "Limitless" below.
https://www.youtube.com/watch?v=8JmtmpOQdng?feature=oembed
Prior to the video's release, the  "On the Floor" singer took fans behind the scenes of the music video in a four-part mini series. In part one, Lopez shared the empowering message behind "Limitless": "What we're trying to create, and let's not lose sight of that, is these women creating this amazing, raging colorful storm around them. The minute you're born a woman, it's an uphill battle."
She adds: "You're fighting the elements. And so I have all of these nature elements." In the "Limitless" video, Lopez and Muñiz are seen contending with natural elements like wind and leaves as they struggle to reach the top. The song is featured in the soundtrack of Second Act, which arrives in theaters on December 21st. The rom-com follows Maya (Lopez), a Value Shop assistant manager who gets a chance to reinvent her life. The film also stars Vanessa Hudgens, Milo Ventimiglia, and Leah Remini.
Lopez welcomed Muñiz in February 2008 with then-partner Marc Anthony, with whom she also shares Emme's twin Maximilian. Obviously we love that Lopez made her empowering directorial debut a family affair, and hope to see more of this mother-daughter duo soon.