Jennifer Lopez kissed Marc Anthony at the Latin Grammys and the internet has lost it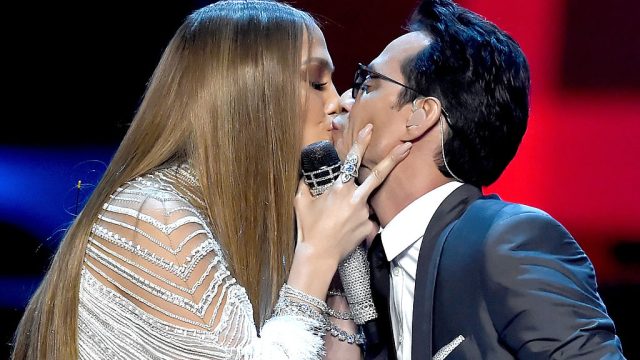 Jennifer Lopez kissed her married ex Marc Anthony on the lips at the Latin Grammys and everyone lost it. Okay, but maybe they actually freaked out over how totally incredible JLo and Marc Anthony sounded in their performance of Olvidame y Pega la Vuelta.
During Marc Anthony's 2016 tour, we've been devouring all the songs and videos people are posting online. We've realized, once again, how much Anthony KILLS IT in Spanish. Forget Marc Anthony in English. Marc Anthony in Spanish, swoon, melt, die.
Apparently, the same is true for Lopez.
And Jennifer Lopez and Marc Anthony are working on a Spanish language album together, so get excited. Get very excited.
false
After the epic performance, Lopez presented Anthony with the Latin Recording Academy's Person of the Year award.
"Marc is a living legend," Lopez said in Spanish. "He's a pure artist, who shares classics with us that will last forever."
Throughout the speech, you can hear the audience chanting "Beso," until finally Lopez grabs Anthony and lands one on his lips.
false
First, a tease:
https://twitter.com/udfredirect/status/799717256905244672
Then the real thing:
Especially after those vocals, oh my.
Okay, so do your homework: Marc Anthony in Spanish, y'all.