Jennifer Lopez's daughter was basically J.Lo 2.0 during the Super Bowl halftime show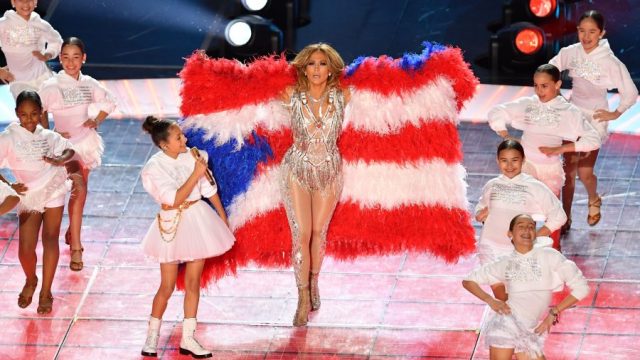 Stealing the spotlight from Shakira and Jennifer Lopez at last night's 2020 Super Bowl halftime show was a veritable task, and only one person was capable of doing it: J.Lo's eleven-year-old daughter, Emme Muñiz. This just goes to show that you literally have to share DNA with Lopez to stand your ground with her. (Though Shakira did a damn good job of it, too.)
Emme initially took the stage at Miami's Hard Rock Stadium alongside a chorus of kids, but she broke away from the chorus to perform a rendition of J.Lo's 1999 hit "Let's Get Loud." She was accompanied by her badass mom, who wore a feathered, double-sided Puerto Rican/American flag cape, and Shakira on the drums—this is a sentence we never dreamed we would be able to write.
We were blown away by the pipes on this kid, who looked right at home on one of the world's biggest stages.
Other than Emme's breakout performance, there were so many noteworthy (and meme-worthy) moments from the Pepsi Halftime Show.
Lopez used her Hustlers pole-dancing skills at one point, and music stars J Balvin and Bad Bunny made unexpected cameos. And, of course, we loved the hit-stuffed medleys, which included Shakira's "She Wolf," "Whenever Wherever," "Hips Don't Lie," and "Waka Waka"; and Lopez's "Jenny From the Block," "Ain't It Funny," and "Waiting For Tonight." It all sent us into a glorious tailspin back into the '90s and early 2000s, which is our very favorite kind of tailspin.
The show was also very much a reflection of our current cultural and political moment. In a clear show of solidarity with people impacted by the Trump administration's questionable immigration policies, Emme joined J.Lo as the medley transitioned briefly to Bruce Springsteen's "Born in the U.S.A."
As Emme sang, the children's chorus danced in lit cages, a possible reference to the thousands of migrant children detained at the U.S.-Mexican border.
The performance also paid subtle tribute to the late Kobe Bryant with a cross lit up in purple and yellow, the colors for the Los Angeles Lakers.
Overall, the performance primarily served as a celebration of Lopez's and Shakira's era-defining music and age-defying feats, and we'll be rewatching the entire thing on a loop.
Best of luck to whomever is chosen to perform at next year's Super Bowl halftime show! Unless you're Emme Muñiz, you'll have your work cut out for you.