Jennifer Lopez dancing by herself at the Met Gala is weirdly relatable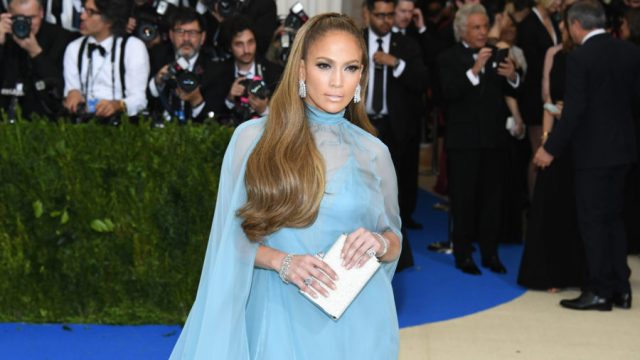 If you're a celeb or fashion junkie, you're probably aware that last night was the 2017 Met Gala in New York City. It was an evening when our favorite entertainers could flex their style and creativity muscles, and we were here for every minute of it.
And amidst the fabulous fashion, we spied Jennifer Lopez busting a move inside the Met Gala (while date Alex Rodriguez stayed totally seated), and we just found it so…relatable. J.Lo liked the music, wanted to dance, and…did. Regardless of whether anyone else felt like joining in. Oh, and she did it in a Valentino dress and Giuseppe Zanotti shoes. NBD.
Take a look at this mundane, yet fabulous, moment.
GO GIRL! Because when you wanna dance, YOU SHOULD DANCE.
We know you want a better look at that gorgeous, light-blue Valentino gown, and we've got you covered.
https://www.instagram.com/p/BTkUUa-FPjw
So stunning it hurts.
This year's Met Gala theme was "Rei Kawakubo/Comme des Garçons: Art of the In-Between." According to NYT.com, Rei Kawakubo is an iconic designer who has never subscribed to the "rules" of fashion — aka, "that clothes need to be flattering, for example, or that they need to have armholes. Instead, she is interested in challenging our ideas about what defines beauty, identity and gender."
She is also only the second designer to ever have a solo show featured at the Met (the first was Yves Saint Laurent in 1983). Basically, it was a worthy evening for a worthy designer, and we loved every moment of it.
Oh, and J.Lo — never stop. Just, never.