Jennifer Lopez showed off a new curly bob in photos of her back in the recording studio
The past six months for Jennifer Lopez have been huge. She starred in Hustlers and received a ton of Oscars buzz that sadly (no, unforgivably) didn't come to fruition. She walked the Versace runway in a recreation of her famous green dress. She performed at the Super Bowl halftime show. But now, she's moving on to a new phase with a new hairstyle. In an Instagram post of her back in the studio, Lopez sports a curly bob, which means both that new music is on the way and that she looks very cute with a curly bob.
Lopez captioned the photos of her singing alongside vocal coach Stevie Mackey, "Back in the studio, workin' on my skills."
Mackey posted one of the same pics on his Instagram and captioned it, "Working on some new thangs." Lopez also reposted a video from Mackey's TikTok on her Instagram story (ah, the tangled web of social media) that shows her singing a snippet of "Love Don't Cost a Thing" as the two sit outside.
This isn't the first time that J.Lo has worked a short, curly style. She notably had a curly bob with bangs on her NBC series Shades of Blue, which concluded in 2018. She rocked some more bold curls back in December and is no stranger to a bob, either. Lopez also often wore her hair curly toward the beginning of her career whether it was short or long.
J.Lo has had a ton of hairstyles—we all know that—but her current one is notable in that it feels like she's leaving her award season and Super Bowl glam behind and going with something more light and fresh. As for what else she'll bring with it, that remains to be seen.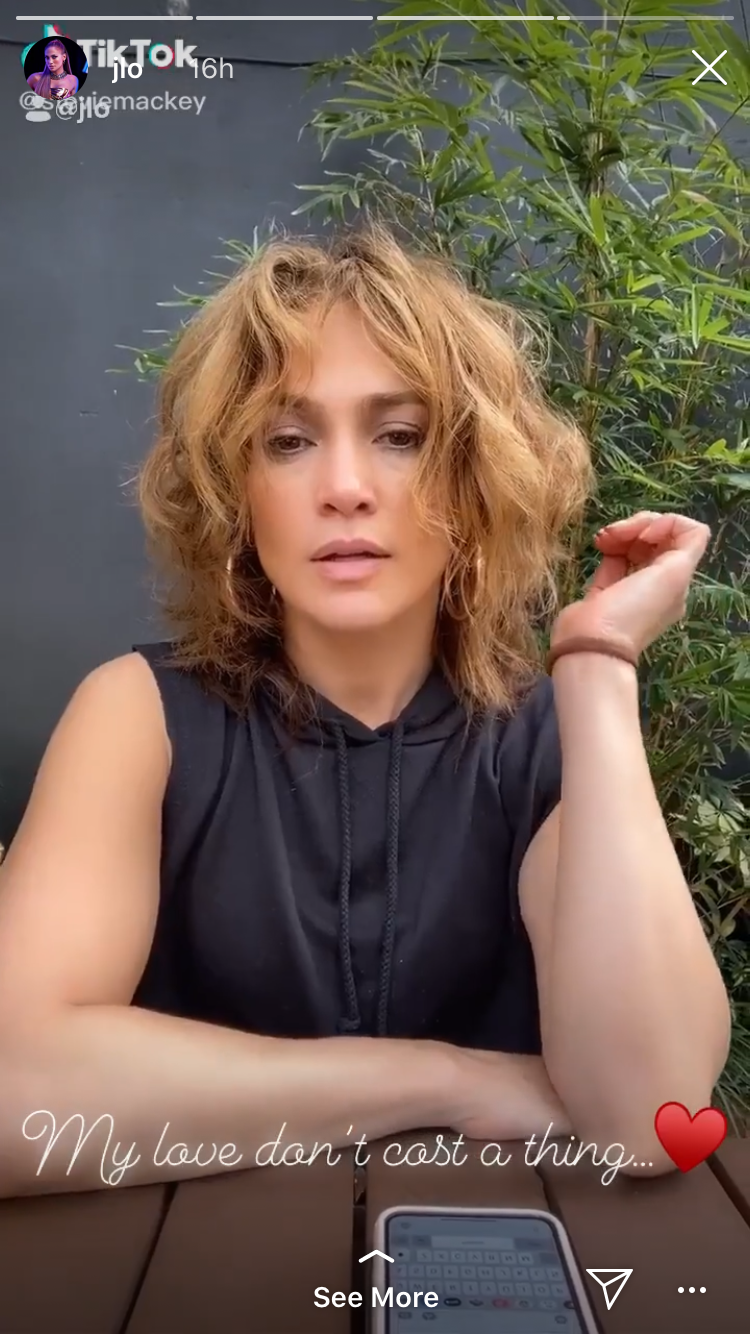 Speaking of that, it's unclear at this point what exactly Lopez and Mackey are working on. During a February appearance on The Tonight Show Starring Jimmy Fallon, Lopez said that she would be releasing music connected to her upcoming film Marry Me, but it sounded like it was already complete. Lopez hasn't released an album since 2014, so she could be working on something bigger or just working on another song that will be released separately, which is something she has continued to do throughout the years.
For now, you can expect Marry Me, the Marry Me soundtrack, and also a million other things, because, hey, she's J.Lo.
Lia Beck is a writer living in Richmond, Virginia. In addition to Best Life, she has written for Refinery29, Bustle, Hello Giggles, InStyle, and more.
Read more