Jennifer Lopez revealed the one thing that would end her relationship with A-Rod, and we're LOLing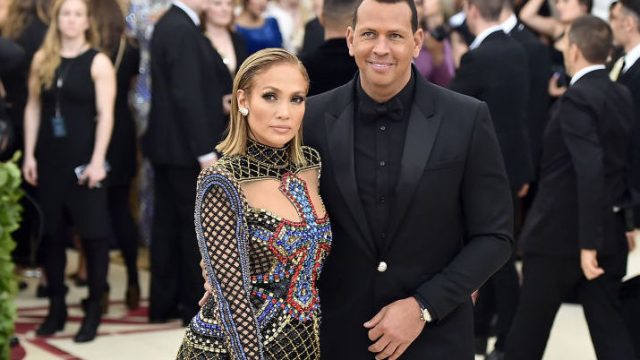 Jennifer Lopez says she's so competitive that she will break up with boyfriend Alex "A-Rod" Rodriguez if he beats her at a sporting event, which is bold, because like…he's a pro athlete. Appearing on Jimmy Kimmel Live!, Lopez called out her bae A-Rod and said it's over if he ever challenges her to a feat of athletic strength and wins.
"I'm so competitive [in] every way. I don't know, something inside me, I'm competitive. When we work out I think, 'I can beat you,' she said. "We never challenge each other side-by-side. Like, if we go to UCLA, and we're doing the stairs or something, in my mind, I'm like, 'I'm killing it.'
"Here's the thing, he just doesn't even entertain my delusions," she later explained. "Like, I'll say, 'Babe, I feel like I could beat you.' And he's like [straight-faced]. [He has] no reaction!"
Kimmel asked Lopez what would happen if her partner accepted her athletic challenge and Lopez quipped, half-laughing, half-deadly serious: "There's no winning that because if he beats me, it's over!" 
Kimmel also asked the multi-hyphenate-star if she played any sports growing-up and J.Lo revealed that she used to run track, but when the audience laughed, she clapped back with a quick, "I did! I have tons of trophies!" (Girl, we don't doubt you!)
You need to watch Lopez tell these stories herself — her enthusiasm is infectious:
https://www.youtube.com/watch?v=cc4mjNt4ddQ?start=184&feature=oembed
Lopez and Rodriguez met in February 2017 like regular people: They saw each other at a restaurant, said "hi," and then A-Rod suggested that they should "hang out." Stars, they really are just like us.
https://www.instagram.com/p/Bh_zEaNFdT4
The rest, they say, is history!*
*Unless A-Rod runs up the stairs faster than J.Lo. But until then.