Jennifer Lopez wore a $34 tee, and here's where to get her exact shirt
Fact: Jennifer Lopez's style knows no bounds, and that includes her fresh-out-of-the-gym ensembles. Normally, we'd expect the pop diva's threads to be on the pricier side. But she pretty much shattered that expectation with her latest $34 T-shirt. Nope, that's not a typo. You can now copy Jennifer Lopez's workout outfit verbatim for what basically amounts to a week's worth of Starbucks trips. Rejoice!
While $34 may seem on the pricier end of the T-shirt scale, hear us out on why it's really not. Because this sleek Z Supply Clothing pocket tee is a versatile investment piece that you can style into everything from workout ensembles to cool jeans-and-tee combos.
There's also the fact that it's made from a super high-quality jersey fabric, which makes it incredibly soft and cozy (as the perfect tee should be). And with a practical front pocket and a flattering V-neck cut, we'd wager that this number would quickly become anyone's favorite T-shirt.
https://www.instagram.com/p/BZg-yoUFAzg
Oh, and then there's the fact that Jennifer Lopez wore it. Which is the *best* selling point of all, obviously.
And while J.Lo wore her Z Supply Clothing Pocket Tee in black, it's also available in nine other colors.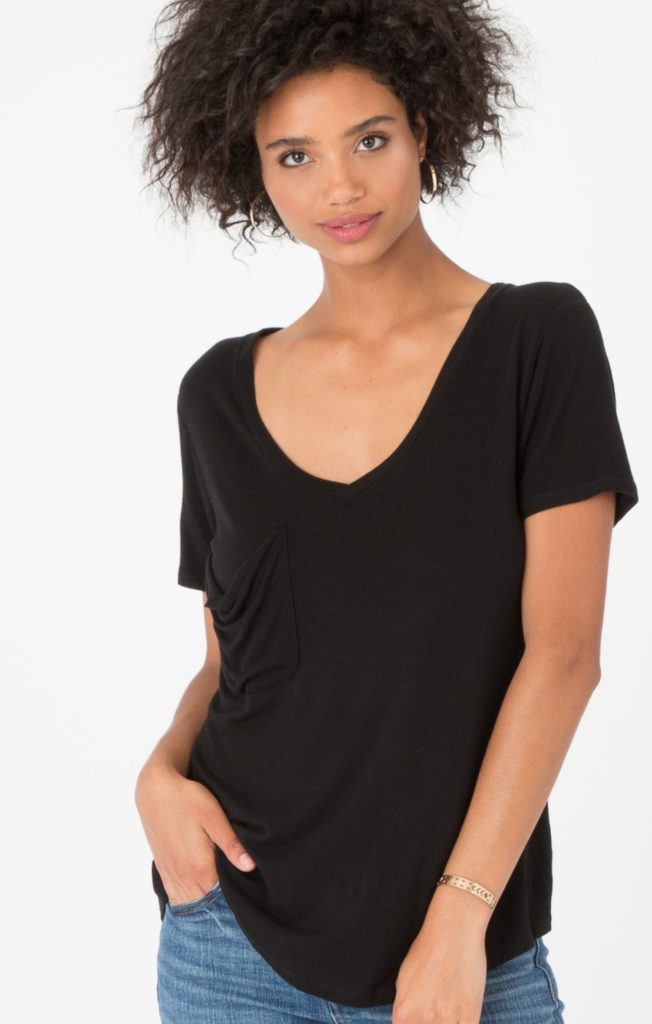 While J.Lo's been hard at work on her various projects (and also keeping our style interests piqued), she's also been finding ways to help Puerto Rico, Mexico, and the various Caribbean islands in the wake of Hurricanes Irma and Maria. Which is why the Grammy-winner announced she's donating $1 million to the relief efforts.
What a great lady!
In the meantime, we'll be keeping up with J.Lo's charitable efforts and, you know, copying her epic outfits. But if copying J.Lo's style isn't your thing, you could always channel her "Jenny from the Block" beauty get-up instead.