Jennifer Lawrence says she wants more celebrities to be "honest" about dieting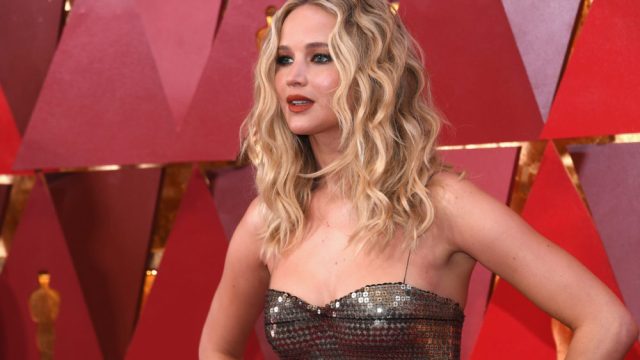 We can always count on Jennifer Lawrence to tell it like it is—especially when it comes to the ridiculous body standards placed on women in Hollywood. And in an interview with InStyle published on September 11th, Lawrence talked about how she deals with unreasonable beauty expectations—and why she thinks it's important to be honest about what she does to attain a certain aesthetic.
"If you are 20 pounds underweight and talk about eating pizza and fried chicken all the time, that's not going to make people feel good about themselves," the actress said. "If I'm going to the Oscars or having a movie premiere—I won't lie—I'm probably eating differently from how I would in my regular life to fit into those dresses. And I feel comfortable saying that."
Of course, "thin" people can definitely eat things like pizza and fried chicken, and no one owes anyone else an explanation about their body or eating habits. But we get the sentiment behind Lawrence's words and appreciate that she's not afraid to shed the illusion of "effortless perfection" that can make so many of us regular people somehow feel less-than.
Lawrence also admitted that she feels most empowered when she's "disciplined."
"Like, when I'm really making myself go to the gym," she elaborated. "Which is a joke, because I definitely pay more for canceled workouts than actual ones. But when I'm there and running on the treadmill, that's when I feel most powerful."
The actress has been candid about her fitness routine in the past. In an August interview with Vogue, she admitted that she does "work out more than normal."
"I'm not very strict with my diet: If I want a piece of pizza, I eat a piece of pizza," she told the magazine. "But I do work out more than normal because I have a certain way that I want to look, and a way that I want to fit into my clothes."
As disheartening as it is to know that Lawrence feels pressure to fit into the industry's grueling and unrealistic body expectations, it's refreshing to hear a celebrity speak so candidly about what goes into achieving those (again, absurd) standards.
Thanks for keeping it real, girl. And let's all use this as a reminder to love ourselves and our bodies a little more today—exactly as they are.