Jennifer Lawrence's upcoming movies all sound ah-maz-ing
We first fell in love with Jennifer Lawrence when she played Lauren, the sassy teenage daughter, on The Bill Engvall Show. That was almost 10 years ago, and she's come a long way from laugh track TV since. Jennifer has proved her acting chops ten times over. She can do it all, from being the face of a franchise to being a strong, Oscar-winning leading lady.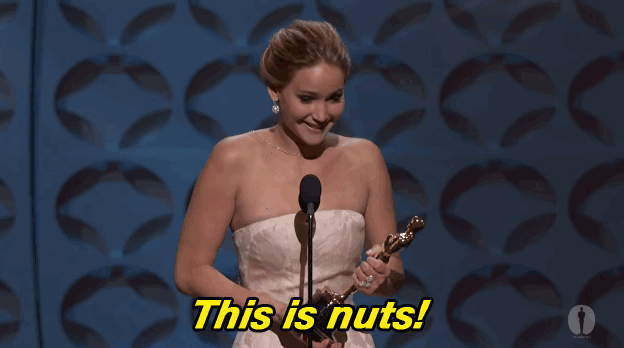 Basically, whatever J-Law is doing, we're on board. She's chosen excellent roles for herself, and every movie she's made has been a hit. Which is why when we look ahead to her upcoming movies, we get excited all over again. Here are four of Jennifer's upcoming projects.
Passengers
There's no denying that J-Law has a certain knack for sci-fi. She ruled the roost as Katniss Everdeen in The Hunger Games and expertly took over the role of Mystique in the X-Men movies. So to hear that she's starring in a film about a space sends us, well, over the moon. In Passengers, Jennifer and Chris Pratt (!) are accidentally awakened 90 years too soon on a spacecraft transporting people to live on a distant planet. Passengers hits theaters in December of this year — just in time for Oscar consideration.
It's What I Do 
This role is like nothing the actress has ever done before. It's What I Do is a film adaptation of a book of the same name about Lynsey Addario, a female journalist who was held captive by the Libyan Army. Addaio will be played by — you guessed it — Lawrence, who is no stranger to biopics. Still need convincing? Steven Spielberg will direct.
Bad Blood
No, this isn't a remake of Taylor Swift's star-studded music video. It's the story of entrepreneur Elizabeth Holmes (Lawrence), the owner of a blood-testing bio-tech company who is under federal investigation. Oscar winner Adam McKay, who directed The Big Short, will direct the project.
A still-untitled film by Darren Aronofsky
Details about this movie are few and far between, but the cast that director Darren Aronofsky has put together is magnificent. Jennifer will star with Domhnall Gleeson, Michelle Pfeiffer, Javier Bardem, Ed Harris, and Brian Gleeson. According to IMDb, the untitled project will be about a couple whose relationship is put to the test when uninvited guests show up. It reads like the plot for a hilarious comedy, but knowing Aronofsky (Noah, Black Swan, Requiem for a Dream), it will probably be anything but funny.
Three cheers for Jennifer Lawrence for taking on strong female lead roles. We can't wait to see these movies!