Jennifer Lawrence reveals her high school superlative and it's spot on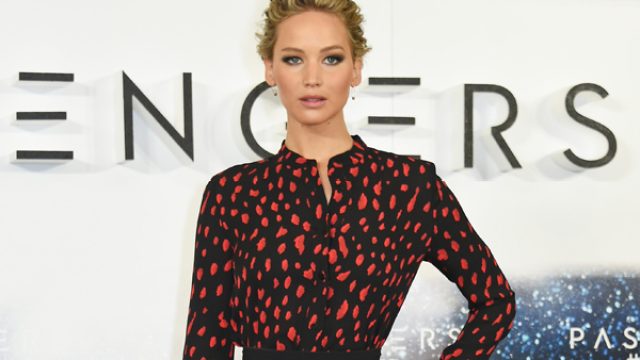 The Hunger Games actress, Jennifer Lawrence reveals her high school superlative and wow, it's totally spot on!
On Friday, Lawrence appeared on The Graham Norton Show with her Passengers co-star, Chris Pratt and they took it way back when talking about their childhood yearbooks.
In fact, the show's host, Graham Norton, pulled up throwback photos of the celebrities and unveiled their high school superlatives, or in Lawrence's case, her 7th grade superlative.
So what did J.Law's classmates vote her when she was in middle school? "Most Talkative" of course!
Graham showed a cute picture of Lawrence on the phone from her Louisville, Kentucky yearbook where she was named "Most Talkative," to which Lawrence piped in, "Two years in a row."
"Two consecutive years," Lawrence told Norton. "Yeah, it was hard to get."
Lawrence's on-screen love interest was not surprisingly named "Class Clown" in his high school year book and the picture that went along with the award is hilarious.
British celebrity chef, Jamie Oliver was also on the show and because he went to school in Essex he didn't have a yearbook. Norton of course gave him a most likely award to make him fit in with the other two guests and it was super funny.
According to Norton, Oliver should've won, "Most Likely to Win a Princess Leia Lookalike Competition" and we can see why!
Check out the whole interview below, for more laughs and stories from Lawrence and Pratt ahead of their futuristic romance-thriller.
https://www.youtube.com/watch?v=3QA-QrkfgoI?feature=oembed
Passengers hits theaters on December 21st, 2016.